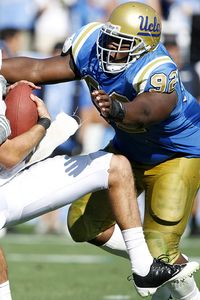 After making a huge selection by going with Oklahoma defensive tackle Gerald McCoy, the Bucs set off in search of a few more pieces to add to their 2010 roster. Today, the Bucs did just that, and then some.
With the 35th overall pick, the Bucs took UCLA defensive tackle Brian Price. At first, fans pondered the decision of drafting back-to-back tackles in rounds one and two, but at second glance, the Bucs now have a fierce front four. Of course, this all depends on how both McCoy and Price translate in the NFL game, but for now, the Bucs have done a great job in addressing one of their weaker areas on their ball club.
Following the pick of Price, the Bucs used the 39th overall pick to acquire the talented Illinois receiver, Arrelious Benn. Declared by many as the third best receiver in this draft (behind Dez Bryant and Demarius Thomas), Benn presents Tampa with a potential solid receiver for many years to come. After a dismal 2009 season, Benn's draft stock took just a bit of a step in the wrong direction, but no worries, as long as he can be coached up by Tampa, Benn should have a great career ahead of him.
The Bucs went into the third round with just one pick, that being the 67th overall pick, which they used on Vanderbilt cornerback Myron Lewis. The Vanderbilt product is one of the bigger corners in this years draft (6'2″, 205) and plays very physical and has very good ball skills. Though he may not make an immediate impact at the beginning of the year, Lewis has the chance to make a name for himself later on in the year.