The Cornerback Dilemma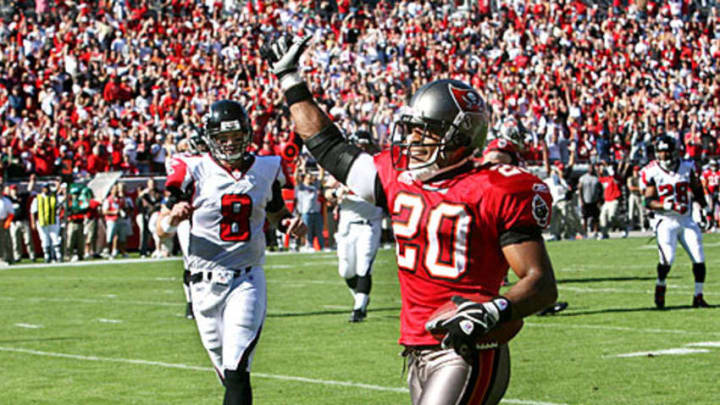 Ronde Barber anchors a strong secondary in Tampa. /
Ronde Barber anchors a strong secondary in Tampa. /
TAMPA — The Buccaneers have wasted no time (much like many other teams around the NFL) in frantically adding players post the Lockout. But being the team that has the most money to buy the toys puts Tampa in a particularly comfortable (and fun) position.
The Bucs have roughly $60 million to spend to meet the new cap requirements in the CBA. With the priority obviously being to re-sign current free agents such as Davin Joseph, Quincy Black and possibly Cadillac Williams, the Bucs have the luxury of being able to look in the high end department they usually have only been able to view from the street window.
Does this mean the Bucs will max out their credit cards buying new flashy names? No but they can and very well may come close to it. After all this team is only a couple players shy of becoming an enourmous force in the NFL.
One of those positions the Bucs will be hot to trot after in these coming days is one of the most talked about this free agency: the cornerback slot.
Tampa Bay currently has a decent corner core headed by Barber and which includes the potential of E.J Biggers, Myron Lewis, Elbert Mack and DJ Johnson. The Bucs have indicated, but not yet directly stated, that they intend to retain Aqib Talib meaning the Bucs corners would be headed by two of the leagues best.
There is room for a third however and the Bucs should very much pounce all over the very idea of owning another top corner. The New York jets are causing a big stir with the reported talks between them and Nnamdi Asomugha. The excitiment regarding this is the fact the Jets would basically have the No. 1 and No. 2 corners in the league as their No. 1 and No. 2.
That's good and all, but the ignored fact is that should Tampa get one of the top three corners in free agency, they'd own three top corners in their top three slots. The question then becomes who should Tampa splurge on?
Well three guys make the top of my mind list. Those names are (obviously) Nnamdi Asomugha, (obviously again) Anotonio Cromartie and Jonathan Joseph.
He's the best choice and would instantly upgrade the Bucs secondary. /
Nnamdi Asomugha
Asomugha is a really nice idea and would draw absolutely no negative cries should he be signed, but just because Tampa has the most money doesn't mean they will get the top guy. Tampa is a nice destination if your Asomugha, but the opportunity to play in perhaps the best historical defensive secondary in the league and do it in the large market of New York — the Big Apple– you'd be crazy if that didn't tempt you to no end.
Red Flag: His age. He's 30 and even though Barber has shown age isn't a huge factor, two older corners on a young team is a bit odd.
Get-ability: 5 (out of 10). He's a big name and the top free agent available. Tampa would most likely have to overpay to get him.
Cromartie's time with the Chargers and Jets has made him one of the NFL's best corners. /
Antonio Cromartie
Next guy up is Antonio Cromartie who is the guy Asomugha will replace should he sign with the Jets. Cromartie has the big name, big flashy style that Asomugha has but he has something Asomugha doesn't: an attitude problem. He is though, a very get-able target for the Bucs should they decide to take him on. The issue with him though is going to be that attitude issue. Tampa has been very adamant that they don't want to be a troubled team and given the issues they've had in the character department, Cromartie may end up being a cancer.
The questions Raheem Morris and mark Dominik will have to ask themselves before even thinking about inviting Cromartie to visit is how will he influence Aqib Talib?
That will be a selling point. With the only other guy to look up to at his position being the stand up gentleman that is Ronde Barber, do the Bucs want to possibly counter that and set up a devil/angel scenario with Cromartie and Barber? I'm totally jumping to conclusions on Cromartie, but given his history and the fact I and the Bucs have no stake in him whatsoever, and also given the amount of cash that will be thrown his way, these questions are as valid as asking well he will cover the Falcons receiving core. It's high risk really high reward with Cromartie who can either come in and star in a three headed NFL version of Cerberus at the corner spot, or come in and usher everyone to Hades with his cancerous attitude problems negatively effecting a very young and impressionable squad.
Red Flag: Character issues. Cromartie can be tough to handle and disrespecting a coach in front of young, impressionable guys isn't a pretty picture.
Get-ablilty: 7. He's second to Asomugha on everyone's board, hopefully Tampa can bag him before everyone turns their attention to him.
He's largely been overlooked and regarded as a third wheel, but a stint with Tampa would both sides wonders. /
Jonathan Joseph
He's beginning to seem like the best and most realistic fit for Tampa. He's not a gigantic name like Asomugha or Cromartie but he has just as much talent.
Joseph is a guy who fits right into everything the Bucs are about. He's not as old as Asomugha, in fact he's the same age (and draft class) as Cromartie; minus the character issues. He's also one of the league's best corners no one has ever heard of. Try to tell me that before this free agent class was discussed in the media that you honestly has heard of and had a working knowledge of Jonathan Joseph's body of work.
You can't, but the same goes for every member of the Bucs outside of their fan following.
Joesph isn't as tall as Asomuga or Cromartie's 6'2″, but he stands at 5'11 which is a whole two inches taller than a guy who has shown size doesn't matter: Ronde Barber. Peter King of SI said in 2009 that when Joseph was paired with Leon Hall in Cincinnati that the two were "the best tandem in the NFL"
Joseph's issues in the character department are minor and nothing the Bucs can't handle. His red flag is in the injury department. Joseph has missed 12 games in the last three seasons due to injuries. Having him on roster would mean three big time, playmaking corners were wearing Bucs uniforms and should he get injured, Barber and Talib would be able to step up. But he'd be getting paid big money to stay healthy which has been a sort of struggle in the past. The bottom line on Joseph is if the price is right, go for it. He's realistic and would fit right into the scheme of things.
Red Flag: Injuries. 12 missed games due to injuries is a tough number to defend. His talent does a lot in terms of upside.
Get-ability: If Cromartie playing second best to Asomugha helps the Bucs, Joesph playing third wheel really helps. While Asomugha and Cromartie demand high salaries and high publicity, Tampa can fly low and get their guy before he becomes best available.