Questions With a Kansas City Chiefs Writer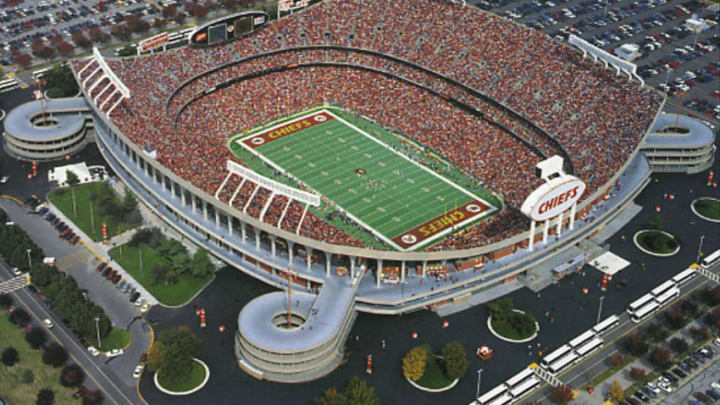 The Bucs open the preseason in Kansas City tonight. /
The Bucs open the preseason in Kansas City tonight. /
I had the chance to interview Patrick Allen, FanSided's NFL Director and Editor of Arrowhead Addict, the network's Chiefs site. They're as excited about the start of the preseason in Kansas City as we are in Tampa. Patrick and I talked about expectations, our teams' off-seasons and what to expect tonight. You can read my answers to Patrick's questions here.
In the meantime, here's what Patrick had to say about the Kansas City Chiefs
Last year the Chiefs were one of the NFL's top turn-around stories, improving by six games and winning the west. How do you expect the team to look this season? Improve or regress?
I think they will improve on the field but regress in their regular season record.
As much as I hate to admit it, the Chiefs arrived ahead of schedule last season. Their schedule was one of the easiest I've ever seen. Now that doesn't mean they didn't take a huge step forward. The 2009 Chiefs couldn't beat the likes of the Bills and the Browns. The 2010 version learned how win and that is perhaps the most important step a struggling franchise can take.
That being said, this is still a very young team that now has to learn how to contend. That is their next step. Their 2010 schedule is absolutely brutal. KC plays the Patriots, Jets, Colts, Packers and Bears. They also must face the Chargers twice, plus a Raiders team that had their number in 2010. That would be a rough schedule for the best of teams. I think a record in the neighborhood of 7-9 to 9-7 is realistic.
For a young team that needs experience playing against and beating the leagues' best, this schedule is a cruel gift. It will serve the Chiefs well though and I think if they navigate it reasonable well, they could be ready for a Super Bowl run come 2012.
Has the rest of the AFC West done enough to catch up to the Chiefs? Consensus may say the Chargers, but who do you feel is the biggest divisional threat the Chiefs face?
As long as Philip Rivers is around, the AFC West will be San Diego's to lose. The Chargers are scary on offense and defense when they are playing up to their talent level. I do question on whether Norv Turner is the man for the job over there though.
The Raiders are up and coming but I am not sold on them yet, mainly because I am not sold on their QB. I think the days of them being the league doormat are over but they may be a year or two behind the Chiefs. On the rise though, for sure.
What were key areas of concern the Chiefs addressed during the offseason?
WR. They had absolutely nobody to throw the ball to outside of Dwayne Bowe in 2010. They added Jonathan Baldwin in the first round of the draft and Steve Breaston in free agency.
They also re-tooled their offensive line by cutting Brian Waters, promoting 2nd year G Jon Asamoah. They also signed T Jared Gaither. This could be a top group if Gaither works out.
Is there anything the team didn't address that could come back to haunt them?
They have a center in Casey Wiegmann who will be 38 and his only backup is a rookie who played G in college. The team also allowed Ron Edwards to leave in free agency. To replace him they signed Kelly Gregg to play NT. He is a stopgap and also has a rookie behind him. These young guys had better be ready to play because there is a good chance one of those veterans will go down to injury.
How much can we expect to see the starters play tonight?
A series if things go well. If they don't, Todd Haley is stubborn so I could see them in for a quarter and a half.
Obviously it's meaningless, but your prediction for the game?
It comes down to who has the best bottom of the roster scrubs. The Bucs and Chiefs are very similar in that they are two young, exciting, up and coming teams. I think it should be a close contest but I'm siding with the Arrowhead Advantage.