Bucs Win, But Miss the Mark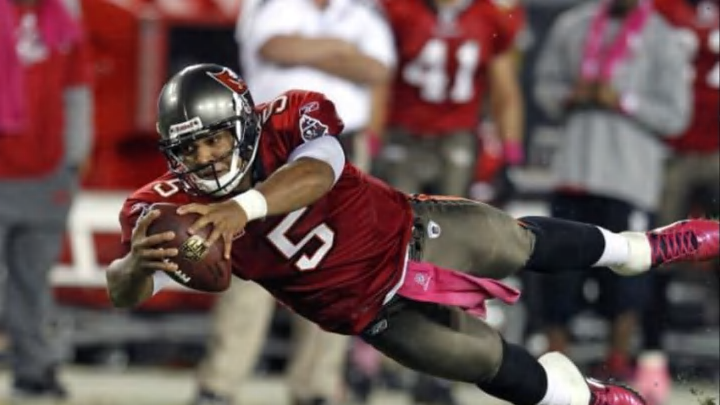 Tampa Bay won, but it could have made a statement. /
Tampa Bay won, but it could have made a statement. /
A win is a win in the NFL, make no mistake about it. But the Bucs had an opportunity to truly make a statement on national television on Monday and missed the mark. There were plenty of good moments in the game, and certainly you can never be upset with a win, but there were also plenty of places the Bucs can improve.
Perhaps the biggest, and most consistent issue has been the Buccaneers' inability to start well on offense. The Bucs accomplished very little until the end of the first half, allowing Indianapolis to jump out to a 10-0 lead before finally snapping to life and beginning to move the football. A large part of that was penalties, which we'll get to in a second but it can also be chalked up to some interesting play-calling and some weak execution.
The Bucs rumbled back, they won 24-17. And frankly, right as the Yankees and Tigers ended their game and the rest of America flipped over to MNF, they saw some pretty impressive things out of the Bucs offense in the 4th quarter. But there were a number of issues that held the Bucs back from making a major statement against a reeling Colts team.
Penalties were killer.
The Bucs committed 14 penalties for 106 yards on Monday night, it seemed like every drive or defensive stand featured at least one. Some were well merited, others were head-scratchers. I don't like to bellyache about officiating but Ron Winters loves to hear his voice over a stadium PA. When a receiver gets flagged for throwing a block on a defensive lineman who has him by a clean 100 pounds, things are getting out of hand. I understand the need for safety but you also need to inject some common sense.
The Bucs need to take some accountability for themselves too though, there were plenty of legitimately called holds along the line and the team made a few bad defensive mistakes that proved costly as well.
The Bucs also had a number of defensive miscues, starting with the record-setting touchdown throw Curtis Painter was gifted with thanks to some terrible coverage and some deft tight-roping of the sideline (and 65 yards after the catch) by Pierre Garcon. Curtis Painter was 13 for 30 but connected on two touchdown passes to Garcon where he was credited nearly 130 yards. The Bucs made Painter, who is otherwise a completely unremarkable quarterback, look solid (at least on the stat sheet).
That undermines an otherwise impressive defensive performance where Tampa stymied the Colts' rushing attack and made Painter look fairly hapless at times. The Bucs dropped several interceptions and narrowly missed adding to their four sacks a number of other times.
In the end the Bucs got what they wanted, they improved to 3-1, they won in front of a sold out crowd at Raymond James Stadium on Monday Night Football. But this was not the resounding statement it could have been.