Shaq Lawson: Buccaneers Draft Profile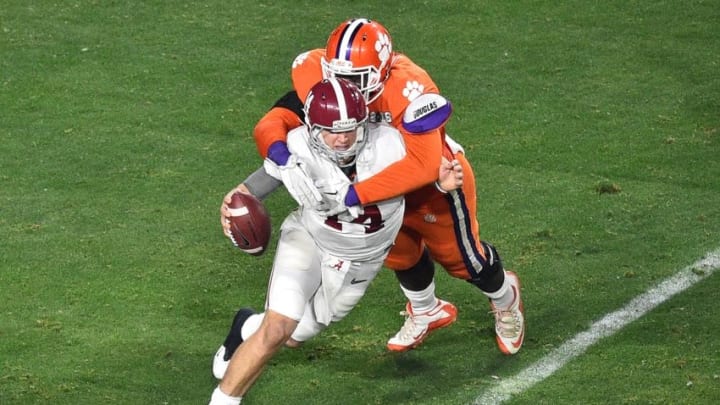 Jan 11, 2016; Glendale, AZ, USA; Alabama Crimson Tide quarterback Jake Coker (14) is brought down by Clemson Tigers defensive end Shaq Lawson (90) during the second quarter in the 2016 CFP National Championship at University of Phoenix Stadium. Mandatory Credit: Gary A. Vasquez-USA TODAY Sports /
As the draft inches closer and closer, we continue to look at potential Buccaneers targets. The more I watch Clemson edge rusher Shaq Lawson, the better he looks.
Before I begin, Bucs fans, I'm going to start with this: do not start with the "Clemson defensive ends are garbage" narrative. The past doesn't matter in this instance. Yes, Gaines Adams and Da'Quan Bowers were not/are not good pass rushers in the NFL, but that doesn't mean Lawson won't be, too. You can't judge a player based on the uniform he wore in college, alone. If you could, the Bucs should've steered clear from Jameis Winston given Florida State's track record with quarterbacks in the NFL. So, now that we have that out of the way, let's begin…
I wasn't really high on Lawson until I sat down and began watching film on him. The deeper I dug, the more I liked what I saw. His ability to spin and muscle out of double teams is something we haven't seen from a defensive end in Tampa since, say it with me, Simeon Rice.
Dec 5, 2015; Charlotte, NC, USA; Clemson Tigers defensive end Shaq Lawson (90) tackles North Carolina Tar Heels running back T.J. Logan (8) during the first half in the ACC football championship game at Bank of America Stadium. Mandatory Credit: Joshua S. Kelly-USA TODAY Sports /
No, I'm not saying he is Simeon Rice, but he's certainly got a special skill set the Bucs haven't had since Rice. The 6'3″, 270-pound Lawson accounted for 12.5 sacks in his final year at Clemson, finishing with 20 for his career. His speed off the line is evident on tape, and he displayed it at the combine. His 40-yard dash time was acceptable, clocking a 4.70, but his 10-yard split was a 1.63. Lawson has the speed and agility to get pressure on the opposing quarterback in a hurry, something the Bucs desperately need.
Lawson is not without his faults, as any other prospect isn't. One of Lawson's biggest issues is run defense. At times, Lawson looks lost when the running back has the ball. There are other times, on passing plays, that he appears to take it easy, not getting the push or pursuit he normally does. Not sure if he takes plays "off", or if there is a conditioning/fatigue issue. Either way, these are coachable issues that Jay Hayes would have little to no issue fixing.
One of the most impressive things I saw out of Lawson was his spin move. He is so quick getting around his blockers using that move that it could develop into one of the best in the league. Seeing Lawson as far more than a "one trick pony" shows he won't be predictable and easily guarded at the next level. The other extremely intriguing thing about Lawson, is his versatility.
Defensive Coordinator Mike Smith told media at his introductory press conference that the Bucs are no longer a one-dimensional defense. He would run a 4-3 scheme, but throw in plenty of 3-4 looks to gain an advantage and keep the offense on its toes. Lawson would be a phenomenal addition to that type of multifaceted scheme. See, despite his ability to get out of a three-point stance, he can, and has, lined up as a 3-4 outside linebacker with success. A player like that coming off the edge, that is equally effective at either position, is the type of dual threat to anchor the pass rush under Mike Smith.
Next: Mock Draft 5.0: Two Full Rounds
Say what you will about Clemson's history at defensive end prospects. You can look up, as I mentioned, Florida State quarterbacks, Alabama defensive backs, Ohio State running backs outside of Eddie George. Every school has multiple misses at multiple positions in the NFL, but that shouldn't stop teams from drafting players they believe will succeed. It's about the prospect, not the helmet. Lawson is one heck of a prospect and one the Buccaneers should consider very strongly at number nine.