2016 Buccaneers' Draft Profile: WR Kolby Listenbee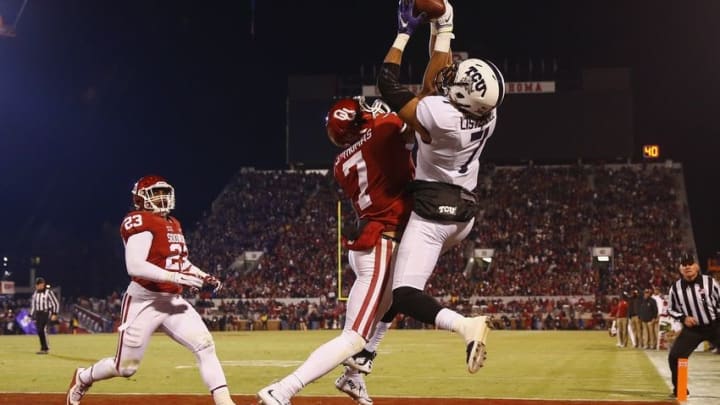 Nov 21, 2015; Norman, OK, USA; Oklahoma Sooners cornerback Jordan Thomas (7) breaks up a pass intended for TCU Horned Frogs wide receiver Kolby Listenbee (7)during the second half at Gaylord Family - Oklahoma Memorial Stadium. Mandatory Credit: Kevin Jairaj-USA TODAY Sports /
In the final push to the NFL draft, we profile another receiver that ay make a good fit for the Buccaneers, WR Kolby Listenbee.
The Buccaneers are likely to do a lot of work on the defensive side of the football during the upcoming draft.  Edge rusher, defensive back, and linebacker depth are all on the wish list of general manager Jason Licht.  But defensive players are not the only focus.  Offensive line help is likely to be on the docket, as well as a wide receiver.  They need speed, and they need to think about the eventual replacement for Vincent Jackson.
More from Bucs Draft
With that, we take a look at the offensive side of the football.  Yesterday, we took a look at Sterling Shepard.  Today, we take a look at a guy that could be available on day three, and would be a player worth taking a look at.  Today's spotlight is on Kolby Listenbee from TCU.
Receiving & Rushing
Data Coverage (*=bowl stats included)  · Glossary  · SHARESHARE [X]  · Embed  · CSV  · Export  · PRE  · LINK  · ?
Now, obviously this isn't a player walking into the league as a number one wide receiver.  He has not shown nearly enough to be looked at that way, but then again, the Bucs already have a number one in Mike Evans.  But, what the Bucs do need is the home run threat, and Listenbee did show us that.  For his career at TCU, his average yards per reception was over 19 yards, which is huge.  Those are the numbers of a player that can take the top off of a defense and make room for others underneath.
MEASURABLES
HEIGHT: 6'0″
WEIGHT: 197 pounds
ARM LENGTH: 31 3/8″
HANDS: 8 1/4″
At the combine, Listenbee showed that he has that top end speed that the Bucs are looking for, posting a 4.39 forty yard dash time, leading the event.  His broad jump was also explosive, leading the way at 129 inches.  Here are the strengths and weaknesses from his draft profile:
"Strengths: Able to win deep against man coverage. Averaged 19 yards per catch and 16 yards at the point of the catch in 2015. Natural hands. Doesn't typically have to fight the ball and shows very good concentration to eyeball throws into his hands. Adequate ball tracking and makes late adjustments on deep throws. Good hand fighter to free himself to be catch­-ready. Has second gear to run under throws. Adjusts well to low throws and can go dig them out.Weaknesses: Gangly with a frame that is too thin at this time. Takes an excessive amount of time to gear down into his breaks and is slow to turn and find the ball. Long-strider. Shows meager effort as blocker on wide receiver screens and in the running game. Saw targets and deep ball production fall off this season."
Time to take a look, at Listenbee. See what I did there?
There is a lot to like here with Kolby Listenbee.  That speed isn't good, it's elite.  There were a couple of plays on the tape where he was barely at the end of the frame, and the next thing you knew he was open 40 yards down field.  Not only is he fast, Listenbee can create separation, which is not something that they all can do coming out of school.  His ability to track the ball in flight is superb, even in a crowd.  He has good hands, and he is a better run blocker, at least from the limited examples above, then even the draft profile gives him credit for.
And why can't Listenbee play the slot?  He's six feet tall.  He would be far from the first guy to be short and play inside, right Wes Welker?
He isn't perfect.  His route tree is limited, which will hold him back initially from being an every down player.  He is a bit thin and wiry, which might make him susceptible to hearing footsteps going across the middle, and easily bumped off of routes.  A little bit of bulk wouldn't hurt.
Next: Last Call for Full Mock Draft
To me, however, this guy is more than worth a shot on day three of the draft.  He can fly, and he can make plays on the football.  There is no way that Bucs' opponents can stack the box with this guy on the field.