Buccaneers Rankings: How the secondary rates among NFC South rivals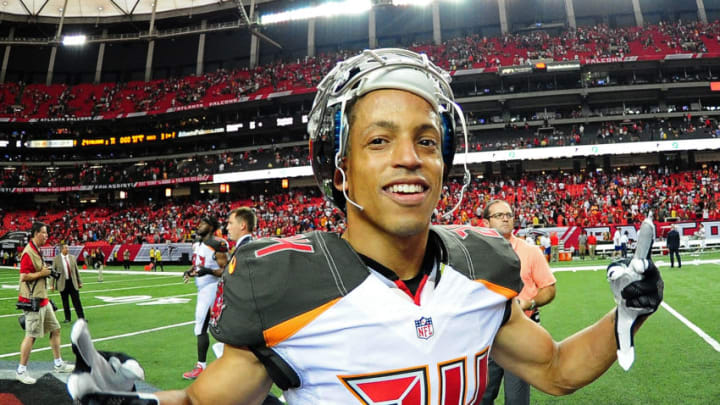 ATLANTA, GA - SEPTEMBER 11: Brent Grimes #24 of the Tampa Bay Buccaneers celebrates after the game against the Atlanta Falcons at the Georgia Dome on September 11, 2016 in Atlanta, Georgia. (Photo by Scott Cunningham/Getty Images) /
GREEN BAY, WI – JANUARY 03: Captain Munnerlyn /
Buccaneers head coach said earlier this off-season that there's a distinct difference between slot corners and third corners.
In this instance, we're just going to talk about who each team's third-best corner is. Whether this guy is a slot defender or not, we're going to evaluate the value each brings to their teams.
As long as we're clear on this, let's get to it.
The Buccaneers' Adjei-Barimah was suspeneded four games in 2016, Elliott was an undrafted free-agent just a year ago, McClain has appeared in just 17 games in the last three years, and Smith is transitioning back to corner after a not-so-good rookie season at safety.
This may become the most intense position battle in training camp outside of kicker. There's experience, potential and athleticism all over this group.
Who is the guy to play the third role? More importantly; how effective will he be?
These are all questions which are currently unanswered.
The former Buccaneers corner joined the Saints after a short sentence in Buffalo.
He went on to start twelve games and appear in thirteen in 2016.
If Delvin Breaux goes down again, or P.J. Williams underperforms, then Moore will give the team a veteran presence on the outside.
He's serviceable, not great, but he provides a little bit of a safety net for a defense which needs one.
This is an interesting selection. See Jalen Collins will lineup on the outside more often than not, and Robert Alford will move inside when Collins is on the field.
So, in a way, Alford is this teams slot corner while also being a starting outside defender.
Collins can hold his own against most opponents. Luckily for him, he doesn't have to face Julio Jones or Muhammed Sanu.
He does however, have to face Mike Evans and DeSean Jackson.
Good luck Jalen.
The Buccaneers signed a veteran who seemed to be running out of steam, and it turned out to be a great move.
Not only did Brent Grimes give the Bucs a boost on defense with his own play. His veteran presence helped the younger members of the team develop better than they would have without him.
The Panthers are hoping Captain Munnerlyn does the same, and he very well could.
He hasn't had a whole lot of action in the last three seasons, but there's enough external influence possible here for him to take home the top spot.
The Panthers take the number one spot here, but by the slimmest of margins. The debate over whether an outside corner is a true number three, or whether slot defenders should be considered starters, are both valid and will be ongoing.
In this ranking however, this is a look at the guy who will be the third most impactful beyond the traditional duo of starters.
Moving to safeties.