Buccaneers Rankings: How the secondary rates among NFC South rivals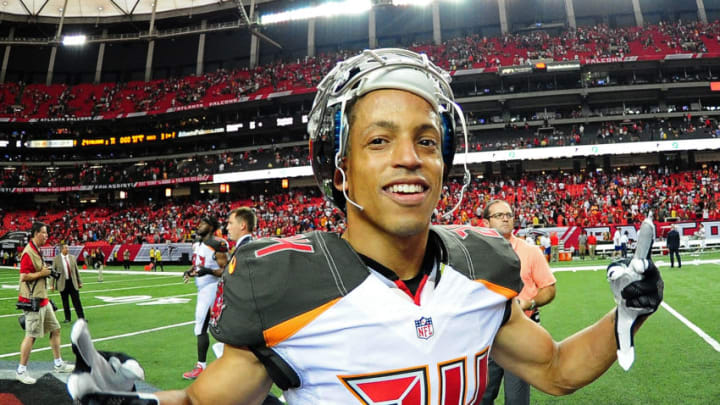 ATLANTA, GA - SEPTEMBER 11: Brent Grimes #24 of the Tampa Bay Buccaneers celebrates after the game against the Atlanta Falcons at the Georgia Dome on September 11, 2016 in Atlanta, Georgia. (Photo by Scott Cunningham/Getty Images) /
ATLANTA, GA – JANUARY 01: Keanu Neal /
There were no Pro Bowl selections from Buccaneers' safeties or any other NFC South safety duos either.
Still, this position group will heavily impact the final standings in the division. So who has the best pairing?
Call me crazy, but sometimes teams just are who they are.
When the Panthers didn't get pressure on opposing quarterbacks, their secondary was exposed.
Kurt Coleman certainly has playmaking ability, but is Mike Adams really the answer to playing next to him?
Adams joins the Panthers after spending three years with the Colts who…..needed secondary help.
He's 36-years old and while he's been healthy pretty consistently, I don't see him leading the resurrection of this defense.
Vonn Bell was one of my favorite safety prospects in the 2016 NFL Draft, and as a Bucs fan I was upset to see him go to New Orleans.
Now, he's going to get his starting shot, and if I was right, this duo is going to be a good one.
There will be young mistakes, but overall, the Saints should get a glimpse of what their future safety pairing could look like, and take some pressure off the corners playing closer to the line.
Bear with me here. A lot of Buccaneers fans were upset when the team brought back Chris Conte. For one, Tandy started over Conte towards the end of the year and turned in some great performances.
Secondly, a lot of people blame Conte for most of the deep plays which crippled the teams chances of winning early in the season.
For what it's worth, we don't know everything about every assignment, and if Jason Licht saw fit to bring him back, I have to believe it was done with Mike Smith's blessing.
The entire defense struggled to catch on to Smith's system, but towards the end of the year, the entire defense started rolling.
If these two can lead in the new additions into 2017 and pick-up where they left off, then fans should be happier to see Conte come back.
This duo started fourteen of their teams' 16 regular season contests together and nearly got the Falcons a Super Bowl title.
We know how this all ended, but coming into 2017 they have to be confident in their abilities to say the least.
The Buccaneers are going to prove extremely challenging with their offensive unit this year, but if there's a safety duo who can match up, it's this one.
So, Atlanta takes the final rankings, but the Bucs certainly sit in striking position to end the year at the top. Funny thing is, it might not be the same starting duo when that time comes.
These components are all nice, but let's find out who the overall winner is.