Buccaneers Extra Points: Another lost season…Now what?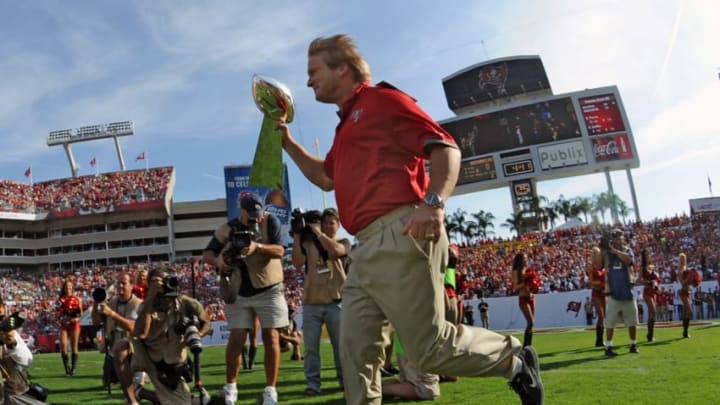 Jon Gruden, Tampa Bay Buccaneers, (Photo by Al Messerschmidt/Getty Images) /
With another disappointing "well there's always next year" season again for the Tampa Bay Buccaneers and its fans, what needs to be done to make sure that it doesn't happen next season?
The Buccaneers are towards that end of a very disappointing 4-9 season so far and will again finish with a losing record and missing the playoffs for the tenth season in a row which is shocking to most with all of the off season acquisitions and the hype that the team received while being on HBO's Hard Knocks.
After coming off of a very promising 9-7 season last year they looked like they were well on their way to being a playoff team this season. Instead it all fell apart as quarterback Jameis Winston missed three games and played hurt in two others, promising pass rusher Noah Spence was lost for the season again to a torn labrum, Kwon Alexander, Vernon Hargreaves, and Brent Grimes all missed games due to various injuries, and the defense just hasn't played the same as they did last season.
Hargreaves was also demoted to backup corner or nickel corner due to poor play in favor of Robert McClain and/or Ryan Smith. Also the Buccaneers pass rush has been nonexistent only being able to muster an NFL low seventeen sacks while allowing opposing quarterbacks to complete 68% of their passes, and are allowing teams to convert on 48.48% of their third down attempts also worst in the NFL.
So with another awful and disappointing season almost in the books what's next, what needs to be done to fix the problems that have caused the Buccaneers to be a sub .500 team and the season over by mid-November again?
Well in the return of "Extra Points" we will delve deep into what the problems are and what are the possible solutions to those problems or basically … what's next for the team?