Buccaneers Extra Points: Another lost season…Now what?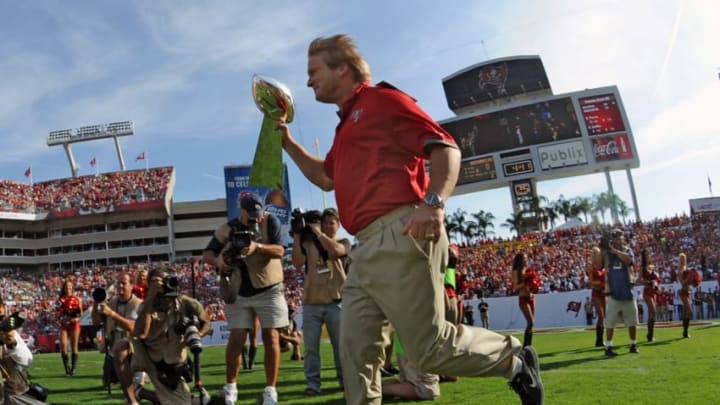 Jon Gruden, Tampa Bay Buccaneers, (Photo by Al Messerschmidt/Getty Images) /
TAMPA, FL – NOVEMBER 27: Defensive tackle Gerald McCoy #93 of the Tampa Bay Buccaneers and defensive end Noah Spence #57 converge on quarterback Russell Wilson #3 of the Seattle Seahawks for the sack during the first quarter of an NFL game on November 27, 2016 at Raymond James Stadium in Tampa, Florida. (Photo by Brian Blanco/Getty Images) /
FINDING A PASS RUSH
WHO WILL PROVIDE A PASS RUSHERS?
Thirty-two year old defensive end Robert Ayers has clearly lost a step since being signed as a free agent by the Buccaneers prior to the 2016 season, and has only been able to play in 23 games so far with the team and so far has achieve 58 tackles and 8.5 sacks and again clearly is not the same player that he once was.
Noah Spence the teams only pure pass rusher has dealt with shoulder injuries in the first two years of his young career playing in 22 games but only being able to start in six of them with a grand total of 31 tackles and 6.5 sacks, and has shown some great promise but clearly has been affected by his shoulder issues.
William Gholston was given a large deal prior to the 2017 season as a run stuffing defensive end and has played in eleven games this season starting just eight with 28 tackles zero sacks and is getting outplayed by backup William Clarke, and clearly is not a pass rusher only amassing ten sacks in his five seasons.
Must Read: Winners and Losers from Loss to Detroit
The Buccaneers defensive ends account for 6.5 of the Buccaneers NFL worst 17 sacks or 38% of the teams total with defensive tackles leading the way with 8 (Gerald McCoy – 5, Clinton McDonald – 3), and clearly the pass rush needs to be addressed this off season as opposing quarterbacks have been able to complete 68% (NFL worst) of their passes. The Buccaneers defense is on pace for just 19 sacks on the season which would be half of last season's total.
The Buccaneers will most likely need to sign a starting end in free agency and draft a pass rusher early in the draft since I do not think Ayers will be retained as he can be released without any dead money at the end of the season. What free agent pass rushers will be available at the end of the season that the Buccaneers may be able to sign?
The two best options in free agency will be DeMarcus Lawrence and Ziggy Ansah who will both most likely command $9-11 million per season which might be too rich for the Buccaneers to pay, but with the Buccaneers likely will have around $60-70 million in cap space and pass rush being such a huge need they may be more willing to spend the money to get the pass rusher that is badly needed.
The other option is in the draft where Bradley Chubb is clearly the top edge rusher at this time with Harold Landry and Arden Key as other options but it is too early to tell who the Buccaneers could target in the draft process.
With pass rush a huge issue for the Buccaneers I expect them to go hard after pass rushers in free agency and the draft this off season.