Buccaneers Extra Points: Another lost season…Now what?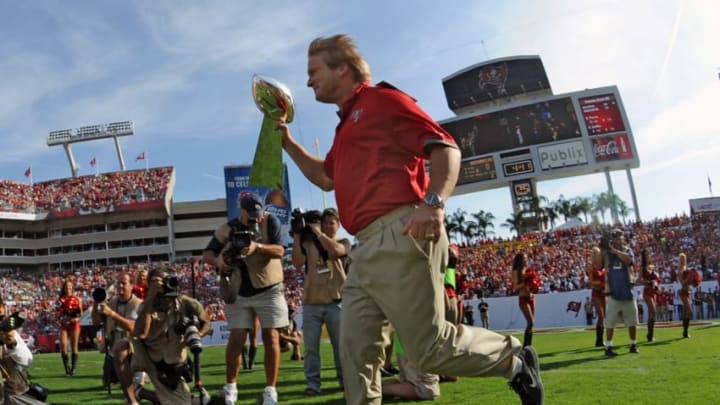 Jon Gruden, Tampa Bay Buccaneers, (Photo by Al Messerschmidt/Getty Images) /
TAMPA, FL – DECEMBER 10: Running back Doug Martin #22 of the Tampa Bay Buccaneers rushes for a 1-yard touchdown during the first quarter of an NFL football game against the Detroit Lions on December 10, 2017 at Raymond James Stadium in Tampa, Florida. (Photo by Brian Blanco/Getty Images) /
THE RUNNING GAME
THE END OF DOUG MARTIN AND THEN WHAT?
Doug Martin was suspended at the end of last season and for the first three games of this season and the Buccaneers could have released him with no cost to them, but instead chose to give him one more season to try to prove that he could still be a potent running back in the NFL.
The running game for the Buccaneers last season was average at best as they averaged 117.2 yards per game and so far this season they have averaged an even worse 91.5 yards per game. Martin has been the primary ball carrier with twice as many carries as JacQuizz Rodgers and Peyton Barber rushing for 129 carries and 402 yards averaging 3.1 yards/carry and four touchdowns in nine games averaging just 44.7 yards/game. The Buccaneers as a whole have rushed 319 times for 1190 yards for 3.7 yards/carry and six touchdowns.
Clearly Martin is not the guy who can help this running game become productive and take the pressure off of Jameis Winston. Martin has now been in the league almost six seasons and has basically had two good season in 2012 and 2015 (averaging 303 carries for 1428 yards, 4.7 yards/carry and 8.5 touchdowns) and four terrible seasons (averaging 133 carries for 443 yards, 3.3 yards/carry and 2 touchdowns), and the Buccaneers can get out of his contract at any time with zero dead money.
Must Read: Key Plays from Week 14
The Buccaneers tried last season to find a running back in the draft but waited too long to take one and ended up selecting Jeremy McNichols in the fifth round, but he had a hard time figuring out blocking assignments and learning the playbook and was released on final cuts choosing not to return to the teams practice squad. Waiting too long in the draft due to more talented players higher on their board the team passed on future stars as Dalvin Cook, Kareem Hunt and Marlon Mack.
In free agency the best potential option running backs will be Laveon Bell, who the Steelers will do everything in their power to keep, and Carlos Hyde. With the Buccaneers having an early draft pick again (top 10 in each round) there could be a chance for a running back in the early rounds of the draft and I don't think that they will wait too long to grab one this time.
Either way with very little production out of the running back unit and Doug Martin most likely being released the Buccaneers will definitely be looking for some way to find production in the running game and help take pressure off of Winston.