Buccaneers Extra Points: Another lost season…Now what?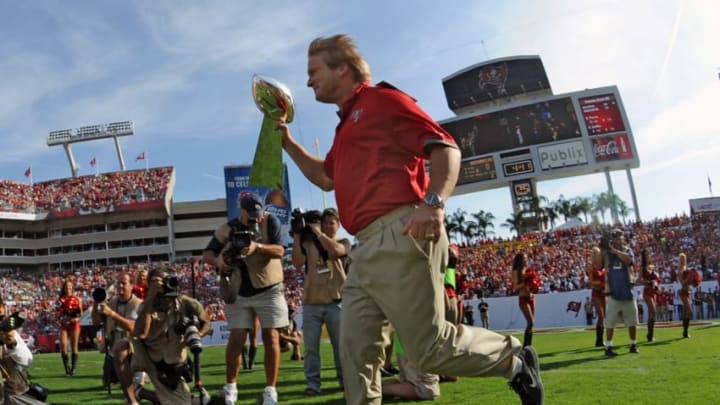 Jon Gruden, Tampa Bay Buccaneers, (Photo by Al Messerschmidt/Getty Images) /
ATLANTA, GA – NOVEMBER 26: Mohamed Sanu #12 of the Atlanta Falcons is tackled by Robert McClain #36 of the Tampa Bay Buccaneers after a catch during the first half against the Tampa Bay Buccaneers at Mercedes-Benz Stadium on November 26, 2017 in Atlanta, Georgia. (Photo by Kevin C. Cox/Getty Images) /
CORNER BACKS
WHO PLAYS NUMBER ONE CORNER WHEN GRIMES IS GONE?
The corner back play for the Buccaneers has not been the greatest in the last couple seasons but one bright spot has been the play of Brent Grimes last season he had four interceptions but had an NFL leading 24 pass defenses. In the 2017 season his numbers are down slightly as he missed three games but still is tied for the team lead with three interceptions and leads the team with eleven pass defenses.
The Buccaneers as a team have only managed twelve interceptions and half of those have been by corner backs and as mentioned prior the Buccaneers defense is giving up an NFL worst 276.1 yards/game (NFL worst 3589 total yards passing) and an opposing completion percentage of 68.4, so obviously the Buccaneers have not proven that they any other corner backs that can be trusted on the team.
Must Read: Week 15 Game Changers
Grimes and his always vocal wife, Miko, have brought up some talk of this being his last season as he becomes a free agent at the end of the season and will be 35 years old when next season starts, so without Grimes and with a struggling Vernon Hargreaves who has not proven that he can become a number one corner back who will take over as the number one corner back in a group of struggling corners for the Buccaneers?
At the end of the season all corners for the Buccaneers except Hargreaves, Ryan Smith, and Josh Robinson (who is more of a special teamer) will be free agents, and again who is going to be the number one corner next season?
Free agency of course will have plenty of options but as I look through the list I do not see a true number one option except maybe Trumaine Johnson who will most likely be very expensive, but if they Buccaneers want a true number one corner they will have to pay for it.
Obviously the draft comes with several early options at corner that the Buccaneers can chose but with so many other early needs in the draft they may wait on that top corner until later in the draft, but obviously the position needs to be addressed as I mentioned above and it will most likely take several players.