Buccaneers Extra Points: Another lost season…Now what?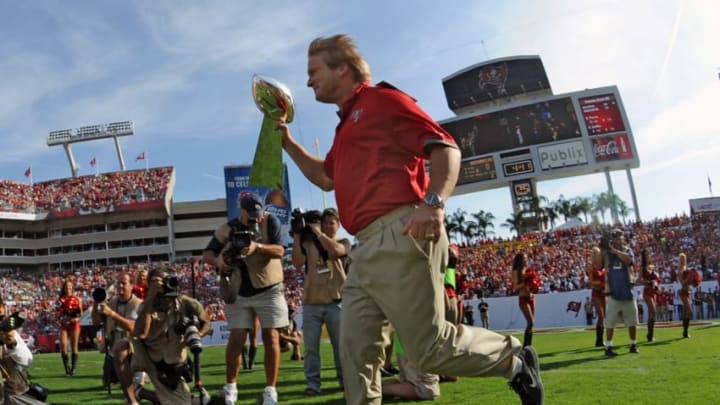 Jon Gruden, Tampa Bay Buccaneers, (Photo by Al Messerschmidt/Getty Images) /
TAMPA, FL – AUGUST 31: Tampa Bay Buccaneers' fans look on during the fourth quarter of an NFL preseason football game against the Washington Redskins on August 31, 2017 at Raymond James Stadium in Tampa, Florida. (Photo by Brian Blanco/Getty Images) /
GM JASON LICHT SAFE?
WILL HE KEEP HIS JOB?
Jason Licht was handpicked as General Manager by former head coach Lovie Smith and ended up having to fire Smith after two terrible seasons. Licht is the face of the team's drafts working closely with the head coach and for the most part has killed it in his four drafts but has also blown some picks.
In 2014 he drafted top wide receiver Mike Evans and also got Charles Sims and Kevin Pamphile in rounds three and five, but then busted on drafting Austin Seferian-Jenkins in round two.
In 2015 he drafted the "Grand Slam" draft taking Jameis Winston, Donovan Smith, Ali Marpet, and Kwon Alexander in the top four rounds, but there are some out there who believe that Smith is not the answer for the team at left tackle.
In 2016 he drafted Vernon Hargreaves and Noah Spence in the first two rounds but then in the biggest talked about move drafted Roberto "wide left" Aguayo in the second round, and Hargreaves and Spence have shown promise but Hargreaves has struggles and Spence has been injured.
2017 is obviously too early to tell how successful the draft was or was not for the Buccaneers but as mentioned above an obvious need of a running back was passed over and over again in last years draft, so that was the one downfall of this years draft that cost them on the offensive side of the ball.
My feeling is that Licht has had enough hits in his draft history to not get him fired and I think that he will be resigned and keep his GM position, but again he may be looking for another head coach in the near future and that hire could make or break him.
Next: Peyton Barber to Carry the Rock?
So what do you think Buccaneers fans will Dirk Koetter be let go at the end of the season and does he deserve to be and if he is who will be his replacement?, does DC Mike Smith deserve to be fire and can he be fired without blowing the whole thing up?, what will the Buccaneers do to improve the run game and pass rush?, who will be the Buccaneers number one corner back next season?, and has Jason Licht made enough good moves in the draft to save his job?
Hope you have enjoyed reading my feedback on those all important questions in the long awaited return of "Extra Points" now tell me your feelings on those question in the comments section or tweet me directly @ND1Bucsfan and thanks for reading.
Remember once a Buccaneers fan always a Buccaneers fan through the Best of time … and the worst of time (which have occurred more often sadly), and FIRE THEM CANNONS!!!