Tampa Bay Buccaneers: Pre-season round table talks Super Bowl 53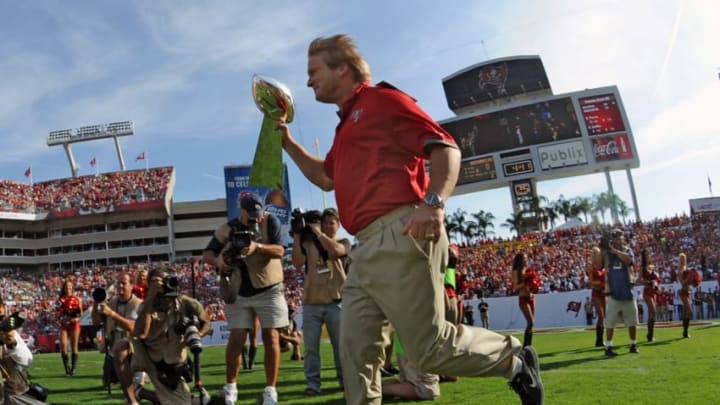 Jon Gruden, Tampa Bay Buccaneers, (Photo by Al Messerschmidt/Getty Images) /
When the Tampa Bay Buccaneers won the Super Bowl following the 2002-2003 NFL Season it was just one moment in what turned out to be a great month for me personally.
Along with watching the first ever championship run for my beloved Tampa Bay Buccaneers I also got to witness an Ohio State Buckeyes championship – no matter what Hurricane fans say – and I got promoted to Corporal as a team leader in Kosovo.
I was months away from marrying the woman who is now my Wife of 15-years and the loving Mother to our three painfully awesome children.
Enough about me though, this is a Bucs site! The point about all of this, is man how great was that season, year, and title run?
I want it again. WE want it again. More importantly, at least in execution, is the franchise wants it again.
In sports, you always have the occasional franchise which is obviously more concerned with the bottom line than the win and loss lines.
Those teams frustrate the sports purist in all of us. I happen to be a fan of some of those teams. It's frustrating.
Tampa isn't one of those. With one of the highest salary cap figures beginning this off-season, the Glazers allowed or instructed Jason Licht to go out and spend the money it takes to get this team back on track.
Jameis Winston is in the final stretch of his rookie contract and having a franchise quarterback is about to get real expensive.
So, spend is what the team did. Wisely. And now, the team has cautious optimism surrounding them, replacing the wild hype which surrounded the 2017 club.
Nobody is predicting the Tampa Bay Buccaneers as 2018-19 Super Bowl Champs, but nobody predicted the Eagles either.
For this round table, I asked the writers of the Pewter Plank to come up with their dream Super Bowl match-up for the upcoming season.
What follows are their opinions. Check them out, and then hit up twitter to tell us who is right, who is wrong and chip in with your own.