Tampa Bay Buccaneers: Pre-season round table talks Super Bowl 53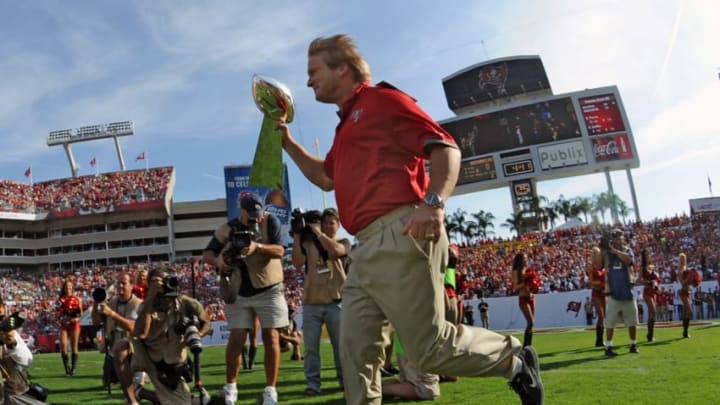 Jon Gruden, Tampa Bay Buccaneers, (Photo by Al Messerschmidt/Getty Images) /
ALAMEDA, CA – JANUARY 09: Oakland Raiders new head coach Jon Gruden speaks during a news conference at Oakland Raiders headquarters on January 9, 2018 in Alameda, California. Jon Gruden has returned to the Oakland Raiders after leaving the team in 2001. (Photo by Justin Sullivan/Getty Images) /
Derek Quesenberry
It has finally happened. The words we have longed to hear: 'The Tampa Bay Buccaneers are in the Super Bowl!'
After a magical season here we are, waiting to see who the Bucs' opponent will be from the AFC.
As we wait to see who will win the match-up between the New England Patriots and Oakland Raiders, many fans will probably want the Bucs to take on the almighty Patriots.
Me personally, I am craving a Super Bowl rematch between the Bucs and the Raiders.
The idea of Tampa besting Oakland again in the Super Bowl is enticing for a variety of reasons.
First and the most obvious reason is the idea of the Bucs beating their former coach 'Chucky' himself, Jon Gruden.
Now I don't know for sure, but I would bet money Tampa at least tested the waters on trying to rehire Gruden as their head coach a couple of years ago before deciding on Dirk Koetter.
Gruden decided to stay retired until this past off-season and returned to the Raiders.
He still has a house in beautiful Tampa but decided to coach in Oakland instead. Who would do that?
It's water under the bridge now and honestly, I don't really care at this point. I'd really have to admit it would be a great feeling to watch Gruden make it all the way to the biggest game of the year only to lose to his former team. It would be a complete 180 of his last Super Bowl appearance, and any Bucs fan would love to see it.
The next reason I'd like to see this match-up is, I really want to see the Bucs' new revamped defensive line against the Raiders offensive line.
Must Read: NFC South Tight End Rankings
In my opinion, the Raiders have a very underrated offensive line. They have Pro Bowl players in Kelechi Osemele and Rodney Hudson. They also have quality starters in Gabe Jackson and former Buc Donald Penn.
Their line is no joke and I want to see what this new defensive line can do against them. Personally, I'd give the edge to the guys in pewter with the advantages going to edge rushers Jason Pierre-Paul, Vinny Curry, and Noah Spence.
The Tampa Bay Buccaneers have a lot of depth and players with different pass rush styles. I can see these edge defenders tiring out the Oakland tackles and taking over the game.
I feel like the Bucs would win the interior battle as well. If Vita Vea is truly a massive dominant player who requires to be double teamed, let's see what he can do against two Pro Bowlers.
I think this would be a great match-up to see and one I think can ultimately decide the game.
Ultimately, the Buccaneers beating the Raiders again in the Super Bowl would be my dream scenario.
The game would have entertaining match-ups and a drama-filled storyline behind it.
In the end, I see Jason Licht and his hand-picked coach Dirk Koetter coming out on top. Jon Gruden can go back to Oakland and start packing for Vegas.
The only thing that matters is that the Tampa Bay Buccaneers are once again Super Bowl Champions!