Tampa Bay Buccaneers: Pre-season round table talks Super Bowl 53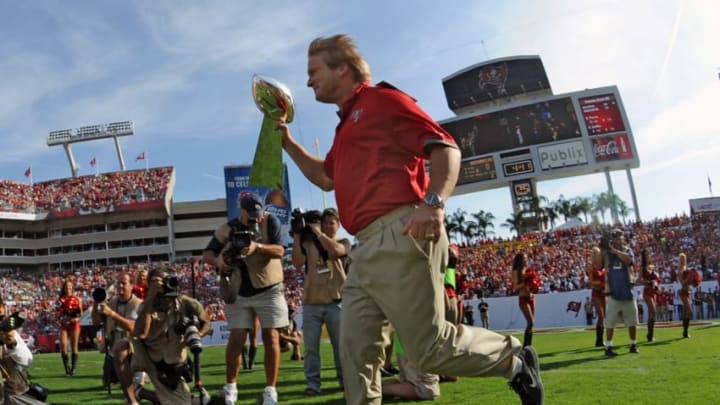 Jon Gruden, Tampa Bay Buccaneers, (Photo by Al Messerschmidt/Getty Images) /
MINNEAPOLIS, MN – FEBRUARY 04: Tom Brady #12 of the New England Patriots misses the catch in the second quarter of Super Bowl LII against the Philadelphia Eagles at U.S. Bank Stadium on February 4, 2018 in Minneapolis, Minnesota. (Photo by Jonathan Daniel/Getty Images) /
Brent Allen
In the world of hypotheticals, my choice for our Tampa Bay Buccaneers to face in the Super Bowl is a pretty easy one.  No, not the Raiders.  Although beating Jon Gruden WITH the Raiders would be pretty sweet for our second Super Bowl win in a row.  I was almost tempted to put them here.  But truth be told, that's just my own sense of poetic justice on that one.
No, in a real world, movie of the week, moral tale, there's only one real team that I think we would want to square off against.  And that is, of course, the New England Patriots, complete with Tom Brady and Bill Belichick.  And, I'll even go a step further to say that I want to face them after they had one of their best seasons, even by their high standards, in years.  But why?  I'm glad you asked.
There's an old adage that says, "To be the man, you've to beat the man."  And let's face it, for the last two decades, the "man" in the NFL has been the New England Patriots.  Since 1997, the Patriots have been to the Super Bowl nine times and have won five of those contests.  Only three teams can say that they went battle the Andre the Giant of football in the biggest game of the year and came out the victors.
"Check out the latest content from Brent Allen and Ren Daxt on the PewterCast!"
And I want the Tampa Bay Buccaneers, the underdogs of the NFC, to be the fourth.  Let's face it, the only good about seeing the Patriots so many times is the handful of times we've gotten to see Tom Brady's face when he loses.
Look, I don't want an easy team.  A broken team.  An injured team.  I want a healthy, well playing, good team for the Pewter Pirates to lay siege to and plunder the spoils of war.  I want to whoop them, fair and square, and come out the better team in the end.  So, watch out Patriots, cause the next thing we're tossing overboard into the harbor…is you!