Buccaneers at Dolphins: Prepare for an ugly Buccaneers offense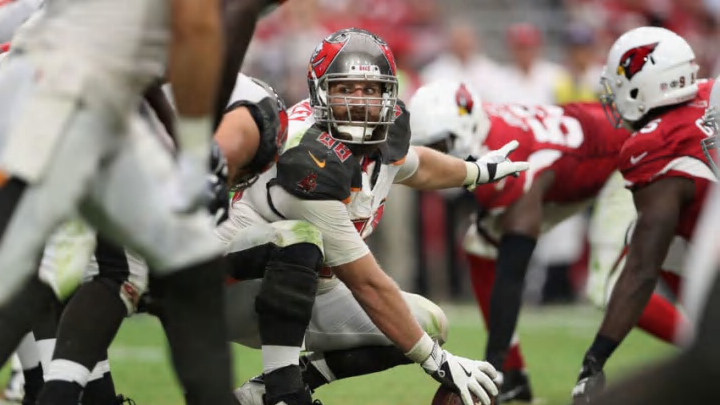 GLENDALE, AZ - SEPTEMBER 18: Center Joe Hawley #68 of the Tampa Bay Buccaneers prepares to snap the football during the NFL game against the Tampa Bay Buccaneers at the University of Phoenix Stadium on September 18, 2016 in Glendale, Arizona. The Cardinals defeated the Buccaneers 40-7. (Photo by Christian Petersen/Getty Images) /
As injuries pile up along the offensive line, it would be best to temper any expectations for the Buccaneers offense in their preseason opener.
The injury bug has bitten the Tampa Bay Buccaneers in the trenches. Although the injuries don't appear to be long-term, key offensive linemen have been hampered by injuries early in training camp.
Tampa Bay Times' Greg Auman highlighted all of the Buccaneers players who sat out of Tuesday's practice, likely deeming them unavailable for Thursday night's contest against the Miami Dolphins.
Off the bat, three linemen, including starting right guard Caleb Benenoch and primary swing tackle Leonard Wester are going to be unavailable for the preseason opener. The other name mentioned is Cole Gardner. Gardner replaced Wester and received some time with the first team in practice.
Tampa Bay Buccaneers /
Tampa Bay Buccaneers
Veteran tackle Demar Dotson has also been working his way back from a season-ending knee injury. It would be a surprise to see him take the field on Thursday.
With three tackles out of commission, it won't be the safest working environment for quarterbacks Ryan Fitzpatrick and Jameis Winston.
It's unclear how both quarterbacks will be used and which one will play with the first team but even the starting offensive line won't be whole.
Third-string tackle Brad Seaton could be in with the first team and third-round pick Alex Cappa or Evan Smith may slide in right next to him. In a meaningless game, Fitzpatrick may want to think twice about dropping back.
The problems will only get worse when third-string quarterback Ryan Griffin takes the field with the second and third team offenses. Jarron Jones, who signed with the Buccaneers on Tuesday, has a chance to play due to the lack of bodies available.
With what could be massive confusion up front and Bucs quarterbacks running for their lives, the perfect recipe has been created for a putrid Tampa Bay offensive performance.
The early injuries could lead to problems as the projected starting line has barely played together. A unit which will have Ali Marpet moving to left guard, new center Ryan Jensen and the potential to have the rookie Cappa in the fold, they need reps as a unit.
On the bright side, at least the injuries are happening in August and not when during the regular season. It's not as painful to see a stagnant Buccaneers offense during the preseason.