What does Madden think? preseason week 1 – Buccaneers at Steelers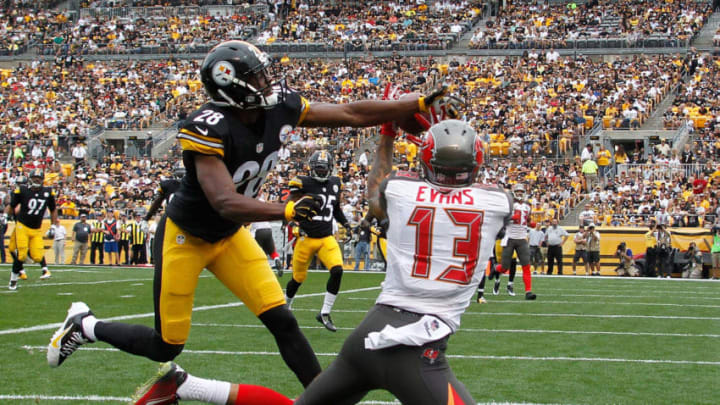 PITTSBURGH, PA - SEPTEMBER 28: Mike Evans #13 of the Tampa Bay Buccaneers makes a touchdown catch in front of Cortez Allen #28 of the Pittsburgh Steelers during the first quarter at Heinz Field on September 28, 2014 in Pittsburgh, Pennsylvania. (Photo by Justin K. Aller/Getty Images) /
We use Madden 20 to simulate the Tampa Bay Buccaneers' first preseason game against the Pittsburgh Steelers. Will it be true to life?
The release of the Madden video game each year is always a highlight for a large segment of NFL fans. Those who enjoy controlling the digital version of their favorite team, taking them through a season and all the way to the Super Bowl.
Whether fairly or unfairly, the Tampa Bay Buccaneers will be a challenging team to lead to glory this year in the game, due to some low ratings for key players. For more detail on the ratings take a look at a recent article done by the site, which goes into great detail on the topic.
For the next twenty weeks (and hopefully into the playoffs) I will be simulating the Bucs' weekly game on Madden 20 to see how accurate both the game engine and the ratings are to real life. This week, it's our first preseason game against the Pittsburgh Steelers which will give us a good look at some of our starters as well as players further down the depth chart.
The Buccaneers nor the Steelers were playoff contenders a year ago, but both have the talent to show immense improvements. While the starters will only see a few drives, the guys fighting for a spot on the roster will finally have their chance to shine. Football is finally back and the Buccaneers take the field in just four days!
Here is a Madden 20 simulation for the first week of the preseason for the Buccaneers.