Buccaneers: Stealing one player from each NFC South opponent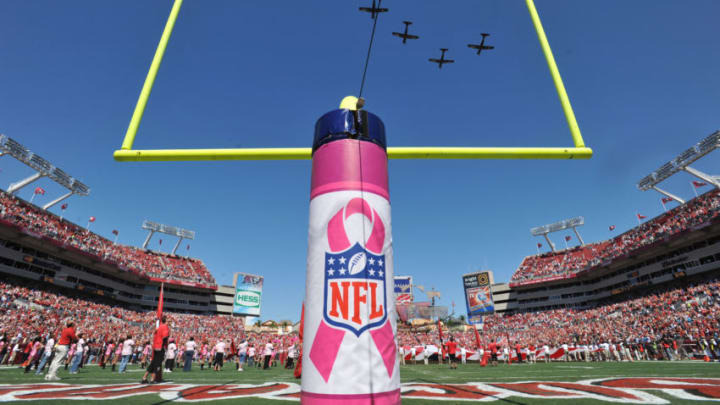 Tampa Bay Buccaneers (Photo by Larry French/Getty Images) /
Grady Jarrett, Atlanta Falcons, perfect fit for the Buccaneers (Photo by Jonathan Bachman/Getty Images) /
Grady Jarrett-Atlanta Falcons
Rounding out this list is another defensive player. The Buccaneers need to focus on their defensive line for the future, and Jarrett is a perfect combination of youth and talent.
Tampa Bay has one of the best defensive lines in the NFL with Ndamukong Suh, Vita Vea, and William Gholston. This trio pairs with the rest of the defense perfectly to create the best run defense in the league. Suh is still playing at a solid level against the run, but with his age, the Bucs need to prepare for a contingency plan down the road.
Grady Jarrett would check all of the boxes for the Buccaneers as a defensive lineman. He is a comparable size to Suh, and he is skilled against the run and the pass. By making this move, the Bucs would find another player to pair up with Vea for the long term without sacrificing the present.
Jarrett was a force to be reckoned with, totaling 7.5 sacks, 12 tackles for loss, and 16 quarterback hits. These numbers are especially promising as Jarrett has consistently improved throughout his five seasons in the NFL, with most of his stats increasing steadily.
In addition to the future payoff of "stealing" Jarrett from the Falcons, the dominant Buccaneer run defense would only get better in 2020. Jarrett would start with Suh and Vea immediately, and running the football would become a thing of the past for opposing teams.