These cardboard cutouts should be at every Tampa Bay Buccaneers home game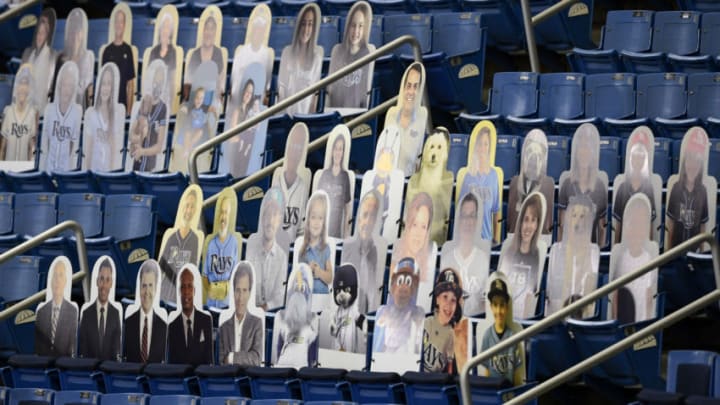 ST PETERSBURG, FLORIDA - AUGUST 04: General view of cardboard cut out fans in the stands prior to the game between the Tampa Bay Rays and the Boston Red Sox at Tropicana Field on August 04, 2020 in St Petersburg, Florida. (Photo by Douglas P. DeFelice/Getty Images) /
Tampa Bay Buccaneers super fan Keith Kunzig /
These cardboard cutouts should be at every Tampa Bay Buccaneers home game
The plan is for the Tampa Bay Buccaneers to have a limited capacity of fans in Raymond-James Stadium this season, but what should they do with the extra space?
If the MLB has taught us anything- and they really haven't- it's to fill those seats with cardboard cutouts.
Now, many Buccaneers fans will scoff at the idea of having cardboard cutouts in the stadium, and I tend to agree. However, I still believe there's a lot of fun to be had with who you can include and the way in which you place these cardboard cutouts in the stands.
Here are five cardboard cutouts that should be at Tampa Bay Buccaneers home games, especially if fans are not allowed to attend this season.
5. Keith Kunzig (aka Big Nasty)
Let's go ahead and start with an obvious selection.
If Tampa Bay is going to make cardboard cutouts to place in the stadium, Keith Kunzig- aka Big Nasty- has to be included, perhaps even multiple times.
Kunzig is the recognizable Tampa Bay Buccaneers fan who wears face paint, a helmet with a horn, and all kinds of Bucs attire to every single game. If fans aren't allowed, Kunzig has to be on a cardboard cutout.
He was named to the 'Hall of Fans' earlier this year and it would only make sense that the Bucs place him in his normal spot if he's not allowed to enter the stadium.