Buccaneers Report: New retractable roof stadium coming to Tampa Bay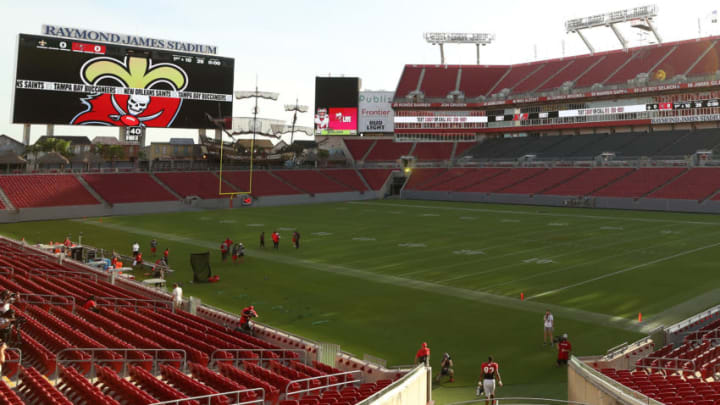 Tampa Bay Buccaneers /
The latest report on a new stadium potentially for the Tampa Bay Buccaneers
The Tampa Bay Buccaneers have played their home games in the friendly confines of Raymond James Stadium since September of 1998. The Bucs defeated the Chicago Bears 27-15 in the first ever game played there.
The stadium has had some minor renovations over the years, including a $100 million agreement back in 2015 for improvements, and holds a little more than 65,000 people with expandable capacity up to 75,000.
While it would seem that most Buccaneers fans have grown fond of the 22-year old stadium, there are reports that we could see something new coming to the Tampa Bay area in the coming years.
The Draft Network's JC Cornell reported Wednesday that a source had told him that the city of Tampa is planning to break ground on a 'massive state-of-the-art stadium' that will have a retractable roof. Cornell tagged by the Tampa Bay Buccaneers and Tampa Bay Rays in his tweet.
There is no clarification as of yet whether that stadium would be used for both the Bucs and Rays- or potentially even another team to come to Tampa Bay (ie a NBA franchise)- or if it will be for one of the teams and not the other. However, Cornell is an NFL reporter who has sources in the football world, which makes us think this has to at least include the Buccaneers in some shape or form.
The Tampa Bay Buccaneers franchise deserves an upgrade
It would be interesting to see the city of Tampa decide to go this direction after just recently seeing the improvements to Raymond James Stadium less than a half-decade ago.
Nevertheless, the Buccaneers certainly deserve an upgrade and it would be nice to see them have a stadium with a retractable roof- especially with the uncertain Florida weather
Only time will tell what this looks like from a Bucs perspective, but it's certainly a developing story for Tampa fans to keep their eyes on, especially following the end of this season.
The Pewter Plank is a Tampa Bay Buccaneers centered website that provides complete coverage & analysis as part of the FanSided network.