3 free agents for Buccaneers to sign to fix injury problems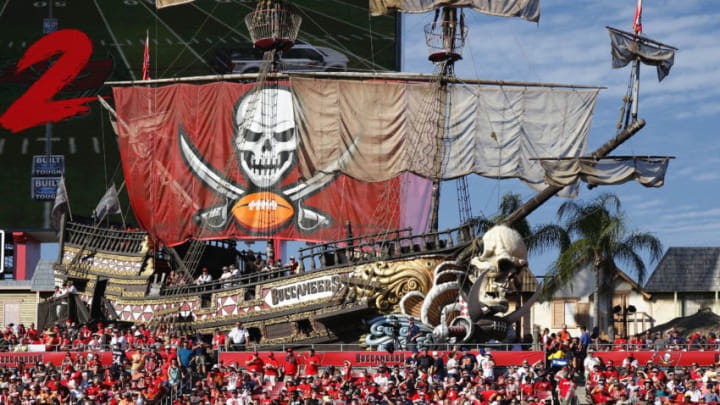 Tampa Bay Buccaneers (Photo by Joe Robbins/Getty Images) *** Local Caption *** /
Tom Brady, Mohamed Sanu, potential free agent for the Buccaneers(Photo by Adam Glanzman/Getty Images) /
The second area the Buccaneers are heavily struggling with depth is at wide receiver. The Bucs have a great unit with the top four, but there is a lot of unproven death outside of them. Tyler Johnson looked great in the game versus Chicago, but finding more depth at this juncture is critical.
The Buccaneers don't need anyone long-term, but signing an additional receiver to add depth during this two-year stretch with Tom Brady is essential. Mohamed Sanu may not be the most exciting option, but his experience with Tom Brady during a brief stay with the Patriots could help out, and his overall experience will aid a young Buccaneer receiver room.
Sanu has never really been a dominant player during his career, but the consistency is there. The Bucs don't need a flashy player anyway, but they desperately need another body to rely on.
Mike Evans and Chris Godwin have struggled with injuries so far this year, which could become a bigger problem if the timing lines up. If Tampa Bay wants Brady to have consistent options, they need to surround him with more players that don't get injured consistently.
Sanu passed around the league after he departed the Bengals, but he was still a consistent piece for the teams he played for other than the San Francisco 49ers. He wouldn't get a ton of reps in the Buccaneer offense, but his experience is the main reason to bring him aboard. The Buccaneers would get another older leader, but one who is a reliable option through the air for Tom Brady.
Sanu may not pop on the stat sheet, but he can still thrive in the Buccaneer offense that can only get him 20 to 40 targets on the season. Being the number one option may not be Sanu's forte, but falling in on the depth chart at fourth or fifth could take some pressure off and allow for the veteran receiver to contribute in a way that he is comfortable with.