Tampa Bay Buccaneers suffer first COVID-19 scare in-house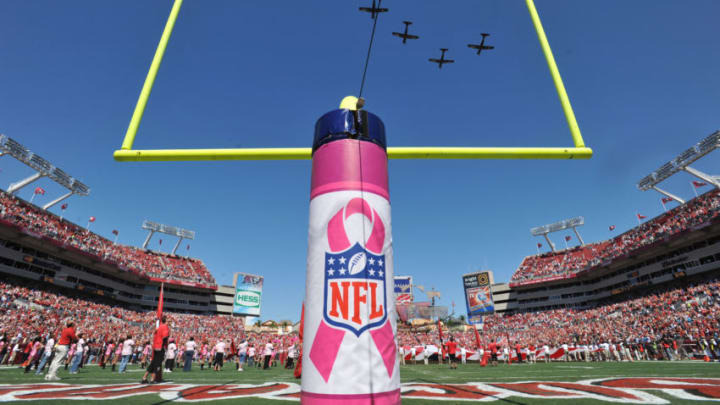 Tampa Bay Buccaneers (Photo by Larry French/Getty Images) /
The Tampa Bay Buccaneers had done well to keep control of their players and staff to mitigate the spread of COVID-19, but disaster has struck.
It is officially time for the alarm bells to begin ringing. The Tampa Bay Buccaneers have confirmed a positive COVID-19 case within the organization, according to Adam Schefter.
Schefter tweeted out that it was just an equipment manager, but this is no time to start underselling the problem. Equipment managers come into contact with the players, and it wouldn't be unlikely for the virus to spread to one of the players.
The Buccaneers have to pray that this does not spread as it has with other organizations. Teams like the Titans struggled for weeks with issues such as this, and the Bucs can't afford to begin rescheduling games and losing practice time.
While Shefter's source appears unconcerned about this affecting the matchup this Monday night, lesser issues have spooked the NFL in the past few weeks. There is a genuine chance that this positive case, mixed with the case in the Giants locker room, could have the primetime game moved or replaced.
The smart money is on the NFL switching the Monday night game with one of the Sunday games so that a game is guaranteed to happen during the lucrative time slot. The Buccaneers were flexed out of primetime last week; this move would come as a minimal surprise for the second week in a row.
This is some of the worst news the Buccaneers could've received. As Tampa Bay has started to reach its stride, a COVID-19 outbreak puts the players in danger and, less significantly derails any of the momentum that has been established.
A single positive test for an equipment manager is not the end of the world, but the NFL's caution could force a change that will negatively affect the Buccaneers.
Bucs fans should keep this member of the staff that has contracted the virus in their thoughts and prayers.