Buccaneers already won free agency, but there's still work to be done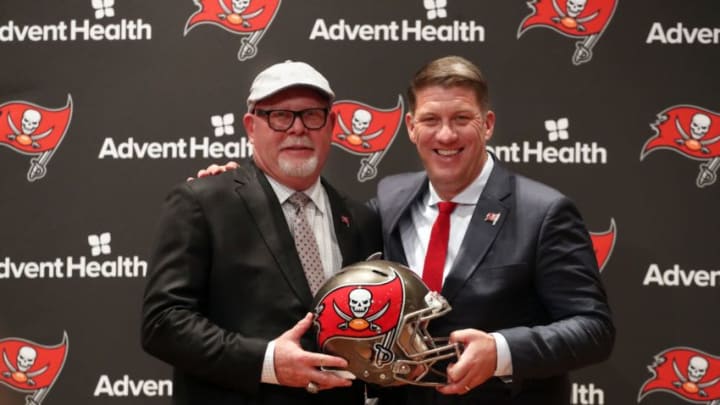 Bruce Arians, Jason Licht, Tampa Bay Buccaneers Mandatory Credit: Kim Klement-USA TODAY Sports /
Jason Licht, Tampa Bay Buccaneers Mandatory Credit: Kim Klement-USA TODAY Sports /
Despite the Buccaneers success, there's still work to be done
Michael Irvin believes the Tampa Bay Buccaneers have won free agency, but not by signing unknowns that have to prove themselves, but by signing those who have already helped them win at the top level. Could Super Bowl LVI be in cannon range?
Even with about 18 free agents still on the loose, it looks like Tampa has already won the free-agency season. They have signed up their biggest gets, managed to keep below the salary cap, have a few more need pieces to pull in, and that's about it.
Of the remaining free agents, who should the Tampa Head Shed spend their efforts on resigning?
Anthony Auclair, probably the Bucs' third best blocking tight end, opens the door to try to make some moves with Cameron Brate. Brate has become trade bait for the second straight year since the top two spots in the tight end room consist of Rob Gronkowski and OJ Howard. Gronk is Gronk not need to dig into why he's Numero Uno, and Howard, despite his injuries, is still a better tight end than Brate. Deeper in the room, the Bucs have Tanner Hudson, who has shown his ability to catch the football, and if they sign Auclair they have an extra blocker. Move Brate, open up more cap space and look at other FAs to bring on board with the extra cap Buc(ks).
More from Bucs Free Agency
Antonio Brown, a key piece to the Buccaneers wide receiver group, and while he has proven he can behave, there hasn't been much talk about him in any NFL free agency stories so far. Keep him on a one-year contract, similar to the one he signed this season. If he gets an offer, and it is too much, let him be someone else's concern. Either way, win for the Buccaneers.
Russ Cockrell can be brought back may not have shown other NFL teams enough in his field time this past season. He may be available and may be a smart pick up for the Bucs since he should not be too expensive and was able to help out in the secondary when he was needed.
Leonard Fournette, only the Patriots seemed to want to talk with Fournette. He may prefer to stay in Tampa. At his age, there will always be a question about his ability, since Jacksonville cut him. Last season, he showed that he still had enough juice to get the job done, earning Playoff Lenny and Super-Bowl Lenny accolades from his teammates. If we can keep him, then keep him, but remember The Bucs are looking at James White as a potential running back/receiver who has a connection to Tom (Terrific) Brady.