Buccaneers already won free agency, but there's still work to be done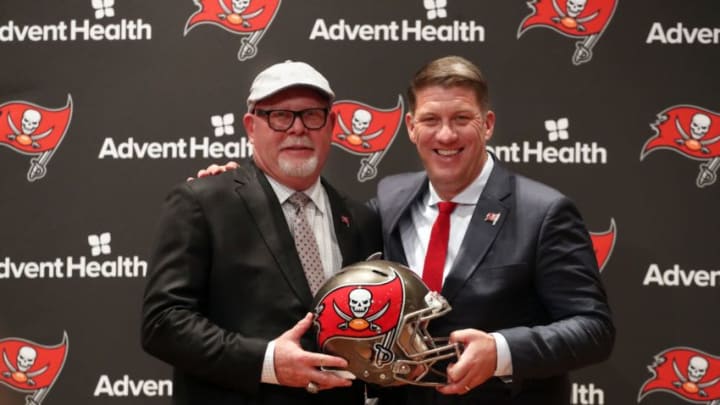 Bruce Arians, Jason Licht, Tampa Bay Buccaneers Mandatory Credit: Kim Klement-USA TODAY Sports /
These Buccaneers may find themselves as men overboard
Kenjon Barner was a solid reserve and special teams player. In this man's NFL, he's expendable. Every season new players are drafted and brought in to round out the 90-man roster. A big part of staying on the team is his performance on special teams. This may be one of those spots that can open up for someone else.
Deone Bucannon may be safe with the Buccaneers, but who really knows. He is not likely one of the FA players the Bucs are overly concerned about. He may stay, but he may go. There are always teams looking for good players.
Jack Cichy may already be gone. Not offered a qualifying offer, it looks like Tampa may be looking in another direction for 2021 and Super Bowl LVI. But, it could also be a clever ruse to make teams think we have no interest when in reality we can bring him back after the draft.
LeSean McCoy will always be remembered as the running back who won back-to-back Super Bowl rings while never sniffing the turf. His return-on-investment last season was negligible, to say the least. Say bye-bye Shady.
Ryan Griffin has likely seen his last season with Tampa. At least he has a Super Bowl ring for his efforts over the years. A solid backup, who can forget the wins he was able to save the last season we had pre-season football games, but moving forward, Tampa needs to find a prospect that has more up potential.
Ryan Smith will only be a Buccaneer next season if the rest of the teams ignore him. He may get some interest from the league, but who really knows what's going on. Remember, the Eagles nabbed Andrew Adams, so the chance of moving to another NFL city is not beyond reason.