Buccaneers: Tom Brady proves he isn't a football cyborg
Tom Brady proves that he is still human with the Buccaneers.
In a season where Tom Brady proved that almost nothing can slow him down with the Buccaneers, it was hard to find many faults for the future Hall of Famer in 2020. Brady showed that age is just a number in his case, his ability to adapt to a new playbook is second to none, and most of the significant issues were confined to the start of the season.
The one low point that sticks out was during the loss to the Chicago Bears. We all remember that.
In a moment that will live in infamy for the Buccaneers forever, Brady apparently lost track of the down at the end of the game and took a terrible look on fourth down to lose to a weak Bears team.
The picture of Brady confused, holding up four fingers looking for the fourth-down marker was spread throughout social media at a breakneck pace. The Bucs were the butt of the joke again, and while they did have the last laugh in the end, this was a moment that showed some holes in Brady's infallibility.
That moment was tough for the Bucs to get past, especially for Brady, who walked off the field before shaking Nick Foles' hand, but Brady has finally set the record straight.
ESPN's Jenna Laine reveals that Brady didn't actually know that it was fourth down, which is a slightly different story from the deflective tactics that were used in the moment. We all knew what happened, but Brady owning up to it is the exact right move.
This whole ordeal shows us just how high the sports world holds Brady. One small mistake in a game that matters very little gets blown out of proportion, but it still surprises everyone that the oldest starting quarterback in the NFL is still human.
Despite every indication otherwise, Brady is not a robot, and there are moments where he will mess up. These instances may be few and far between, luckily for the Buccaneers, but now maybe the infamous picture of Brady can be used for a bit more fun; he is far more loose and relaxed in Tampa after all.
Want to write about the Buccaneers? Apply below!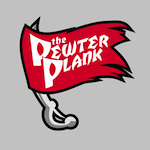 Want your voice heard? Join the The Pewter Plank team!
Write for us!