How the Tampa Bay Buccaneers can go undefeated in 2021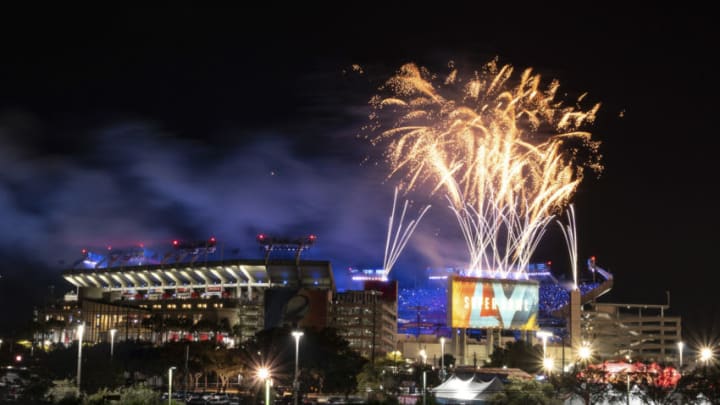 Raymond James Stadium (Photo by Douglas P. DeFelice/Getty Images) /
This Buccaneers team could be the team to do it.
Okay, let's get this off the ground. Coming off a Lombardi-hoisting season, is it possible for the Buccaneers to run it back for LVI and go undefeated to boot? Yes, there is an extra game, and no team actually cleared the undefeated season during the old 16-game season. But, one team came very near to doing just that. The undefeated season, that is.
And what team was that? In unison, The New England Patriots. And who was the quarterback then? Again, in unison, Tom Brady. Can it be done? We will find out soon enough. But it's fun to speculate nonetheless. So, if we go into this, we need to shuffle the deck a bit. We will look at three groupings of games: games we better win, games we ought to win, and games that pose some problems.
Games Tampa Bay Better Win
As in, if we lose one of these, we are likely to have a problem with getting back to the Super Bowl and forget going undefeated. Here are the teams we should have little to no problem with. And yes, I am aware of the Buccaneers' penchant for playing to the level of their opponents.
Cowboys, Falcons, Patriots, Dolphins, Eagles, Bears, Giants, and the Jets.
Quick previews of these games:
Cowboys still have cobwebs from last season. They will have to overcome a lot and pull things together.
Falcons at Raymond James should pose no problem whatsoever. Not saying what might happen in Atlanta, yet.
New England in Foxborough. Really? You think Tom Brady is going to lose this one? Not likely, and the whole host of an offense will be on their Ps and Qs making plays. Bucs win in a walk.
Dolphins in Tampa. Too many new things for the Fins to figure out, and this is one that should not be very close, but probably will be.
Philadelphia under the canons. Think they have enough juice for this? Not likely, besides they are still licking their wounds from that Ford Field opener many years ago. Even on a Thursday night, these aren't the Bucs of yesteryear. I think they shirk the curse and perform as expected on a Thursday night.
Da Bears. This is an in-your-face game. The Bucs will wreak havoc over the Bears and send them back to Chicago bearing a big L.
Giants will be no problem in Tampa. The Bucs have consistently played poorly against them, but this team has a different mentality.
The Jets. Yes, it's the Jets. They may have found what they are looking for, but they will still be looking by the time they step onto the field at Raymond James.
Okay, that takes care of nearly half the schedule. Who doesn't think the Buccaneers will come out on the left side of the scoreboard against those teams? No one still breathing, that's who.