Buccaneers: The Tampa tale of head coach Bruce Arians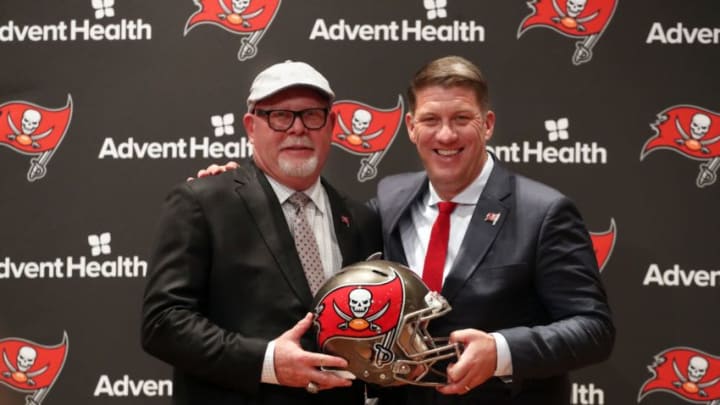 Bruce Arians, Jason Licht, Tampa Bay Buccaneers Mandatory Credit: Kim Klement-USA TODAY Sports /
With the start of the real NFL Football season at hand, it's a good time to relive the past few years that finally led to Bruce Arians joining the Buccaneers.
Really, was it so long ago that Tampa pressed its hopes on reaching that plateau by going back in time and pulling in Lovie Smith? Sure, everyone in Tampa loved the idea. Bring back a true defensive dynamo like Lovie. Really, wasn't he a master of the Buccaneers vaunted Tampa Two?
Didn't they work "hand in glove" with the great and wonderous man behind the curtain, Monte Kiffin? And then go on to Chicago and bring the Bears to the brink of a championship, only to be shown up by another Kiffin supporter, Tony Dungy, who led his Colts to the promised land?
Surely, he was the answer. He would be able to pull this team out of its decade-long plunge into obscurity. Why not? Why wouldn't it work again? Sure, there was no supporting cast at the time, but it was merely a matter of time before Lovie would conjure up some old-time Tampa magic and pull together a Super Bowl-worthy team. At least, that's what some folks must have been thinking at the time. And Lovie did a good thing, he managed to pull in Dirk Koetter to coach the offense side of the ball.
And then, after two horrendous seasons, the Bucs front office had seen enough. They wanted change. At least in terms of a head coach. And the team, the fans, and the front office seemed to know who that person should be. And by golly, he was already coaching the team. It would be simple-pimple to move Koetter from O-coordinator to head coach. That stuff works all the time. Just look back at the history of the NFL? How often has it turned out that the real coach was the one sitting behind the head coach?
Koetter had his swipe, and along with Jason Licht, the key person in this saga started to make some really good draft picks. Not all of them, mind you, but a lot of them. Still, one big choice blew up in their faces. They selected Jameis Winston. They did all the work you can do to check out a college player but apparently were overwhelmed with his achievements and his ability to toss the long ball. He could drive the team, and they had a bevy of receivers for him and everything would be Edenic.
What?
No, you say?
He played like a bad gunslinger, you say?
Back in the days of that other Super Bowl success, Buccaneers teams had to face the gunslinger from Green Bay. They loved to play again Brett Favre, because they knew, no matter what else happened in the game, that Brett was going to make some tosses that he would have liked to have back. But this team wasn't familiar with that team and its knowledge of gunslingers. Instead, they got them one.
That's not to say that Winston can't play. He most certainly can, but there are times when his confidence in himself would overcome football common sense.
That led to the end of Koetter's tenure as head coach. Strangely, it did not lead to the end of Licht's time with Tampa. Who knows what the Buccaneer brass were thinking at that time. But for some reason, they didn't off the GM, as a lot of teams do when they seek a regime change. No. Instead, they sent him on a journey to find a new head coach. Ok, so maybe they actually talked to him about securing Bruce Arians maybe even before they let Koetter go. Only the Bucs brass and Licht really know the answer to that, but the result was key to the team's future success.
With Arians installed, everything was set for success. They had the quarterback and they had a solid offense. While the defense was a bit suspect at the time, it wouldn't stay that way due to Arians and new defensive coordinator Todd Bowles. Right away, they invested in the draft and grabbed a bunch of backfield operators.
Was it daring?
For sure. But remember, this is Coach "no risk it, no biscuit" Bruce Arians. Unfortunately, the risk it in that first year ended up in the biscuit batter more often than it should have. Not only did it cost the team a shot at the playoffs, but it cost them a .500 season, and, sorry to say this, but led to Winston's dismissal.
And yet, they needed a quarterback. He didn't have to be great; Arians mentioned several quarterbacks that he felt the team could win games with over the length of the season. And then…then there was the biggest "risk it for the biscuit" free agent in NFL history. The GOAT. None other than Tom Brady himself was available.
Coach 'No risk it" himself, let's assume, made the call. And it just so happened that the GOAT was indeed interested in coming to Tampa. He had heard through the grapevine that they had outstanding Avocado Margaritas. Never mind that the team, even then, had what might be the best receiving corps Tom Terrific ever had on a single team. Never mind that its fledgling defense was just starting to grow into itself. Who knows how long it took, but Tom signed the papers and pulled the players together so they could get some familiarity with each other during the early days of COVID 19.
As for the rest… Well, the rest is Super Bowl LV and Buccaneer history. In addition to Tom, the team pulled in some key free agents. All of that got mixed up in the Arians' Risk It Biscuit batter and the result was a freshly cooked Lombardi Trophy.
At least, that's the way it might have been. Anyway, let's get this party started. 2021 here we come.
Want to write about the Buccaneers? Apply below!