Tampa Bay Buccaneers: Take a look at Super Bowl rings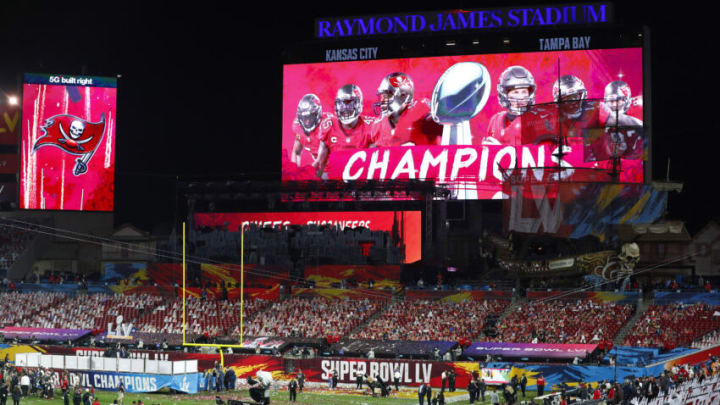 Tampa Bay Buccaneers, (Kim Klement-USA TODAY Sports) /
The time is finally here. Let's take a magical look at the rings the Tampa Bay Buccaneers received for winning Super Bowl LV in all their glory.
The reigning, defending, undisputed Super Bowl champion Buccaneers held a private ceremony where they at long last received their rings for handing the Kansas City Chiefs their heads in Super Bowl LV. We finally got a good look at the rings and the spectacular detail in each one courtesy of the Buccaneers' official page:
Simply majestic. There honestly aren't enough adjectives in the English language to describe the sheer perfection of these rocks.
Perhaps one of, if not the most unique parts of the Buccaneers Super Bowl championship season was that they became the first team in NFL history to play, and then win, the Super Bowl in their home stadium. The most unique part of the ring is that they are the first rings in the history of the NFL to feature a removable top that commemorates the accomplishment in Raymond James Stadium.
Tom Brady called the rings "the most incredible ring that's ever been made" which is saying a lot coming from him. Not only is this his SEVENTH time receiving a ring for winning the Super Bowl, but he also used rings to both become engaged, then married the most famous supermodel on the planet. So, to say this is high praise doesn't do this compliment justice.
Speaking of rings won with the New England Patriots, Rob Gronkowski wore the rings he won during his time in New England, so it was easy to compare the rings and even easier to marvel at the Bucs ring.
Super Bowl rings seem to get more and more elaborate and extravagant to the point of being gratuitously massive, but that's almost the point. The NFL is all about pageantry and showmanship at the end of the day. It's nice knowing the Buccaneers have the most spectacular of them all though. It's also nice knowing that all 22 starters, plus a little extra, that received this ring will be back to try and get another.