Buccaneers: Competition brewing for right guard spot?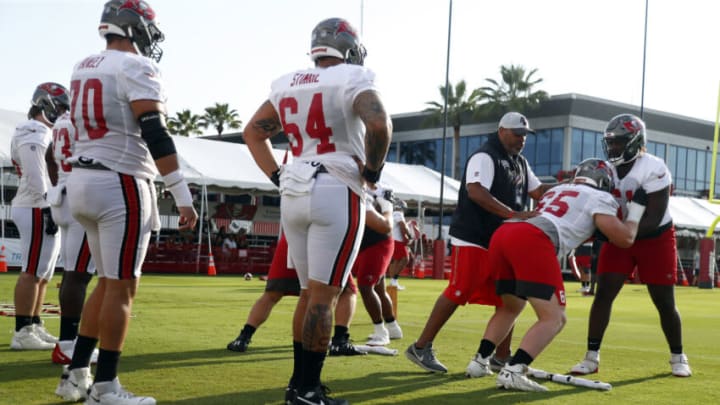 Alex Cappa, Aaron Stinnie, Tampa Bay Buccaneers Mandatory Credit: Kim Klement-USA TODAY Sports /
The Tampa Bay Buccaneers famously became the first team of the Super Bowl era to return all 22 starters and some change for their quest to "go for two" as champions. However, that doesn't mean the Buccaneers will be exempt from battles for starting spots though.
Before kickoff of the Bucs second preseason game, an admittedly hard-to-watch affair with the Tennessee Titans, commentators Chris Meyers and Ronde Barber mentioned how there might be a little competition brewing for the starting right guard spot between Alex Cappa and Aaron Stinnie. While all 22 starters from the 2020 Super Bowl championship roster are back for 2021, Cappa was the lone ranger of the 22 to actually play against the Titans.
Cappa was also the only one of the 22 that didn't actually play in the Super Bowl. Stinnie was the starting right guard on Super Sunday.
Cappa, along with Ali Marpet, forms one of the more solid guard-duos in the NFL. It's all the more impressive when you consider they both are alumni of small college programs. Marpet attended Hobart, while Cappa comes from Humboldt State. They both play with chips on their shoulders and know what it takes to fight for what they have.
Cappa was actually the leading Pro Bowl vote-getter at his position at one point in 2020 but unfortunately saw his season come to an end during the Buccaneers Wild Card game in Washington after fracturing his ankle. Stinnie stepped in and filled the void left by Cappa with great aplomb. Coming into 2021, it's clear that Bruce Arians and company are high on both players, particularly Stinnie considering he has a shot to start at right guard.
The Buccaneers do return all 22 starters and some change from 2020 coming into 2021. That doesn't mean that change can't turn to gold, and Aaron Stinnie is giving Alex Cappa a real run for his money. Cappa should, and probably will, be the starting right guard on opening night against the Dallas Cowboys, but the Bucs can rest easy knowing that regardless of the outcome, they will have major depth along the offensive line, which is huge when your GOAT of a quarterback just turned 44 years old.