It's time to stop comparing Mac Jones to Tom Brady
Mac Jones and Tom Brady are a lazy comparison.
They both played for the Patriots, and they looked unathletic at the start of their NFL careers with their shirts off. This is where the comparison between Tom Brady and Mac Jones needs to end.
Jones made headlines when he won the starting job in New England, or better, Cam Newton made headlines when the Patriots released him, and the incredibly shallow comparison between the Buccaneers' QB and Jones has started up again. Yes, they look alike, but this is not how you compare college players to NFL talent.
Beyond the obvious dangers of comparing one player to another solely on the basis of looks, there is almost no credibility in the discussion that Jones is the next Brady. He may be the next successful starting quarterback in New England, which is where Tom Brady happened to play, but that doesn't mean the athletic and physical comparison is there.
Everyone has seen the pictures of Brady before the draft and Jones with his shirt off celebrating the national championship. Neither player is impressive in their photo. Regardless, a "lack of visual athleticism" is not enough to create a bridge between the two.
Even with his physical limitations, Jones is still not an accurate comparison with Brady because he actually had hype coming out of college. It's hard to say that a quarterback who went in the first round and never sat on the bench for a regular-season game was anything close to a sixth-round flyer whose meteoric rise is one of the greatest sports stories of all time.
Yes, Jones has put together a great preseason and clearly has talent, but if you put Brady up against Jones today, there still isn't a comparison as players. Brady has a better deep ball with more zip, more poise in the pocket, and a better head on his shoulders, even at 44.
Mac Jones is still going to draw the Brady comparison for as long as his remains in New England, such is life following a talent like that, but there are far more quarterbacks to compare Jones to if we're only looking at physical traits that have little to do with football.
Want to write about the Buccaneers? Apply below!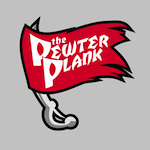 Want your voice heard? Join the The Pewter Plank team!
Write for us!