Buccaneers: Team captains reveal everything about team identity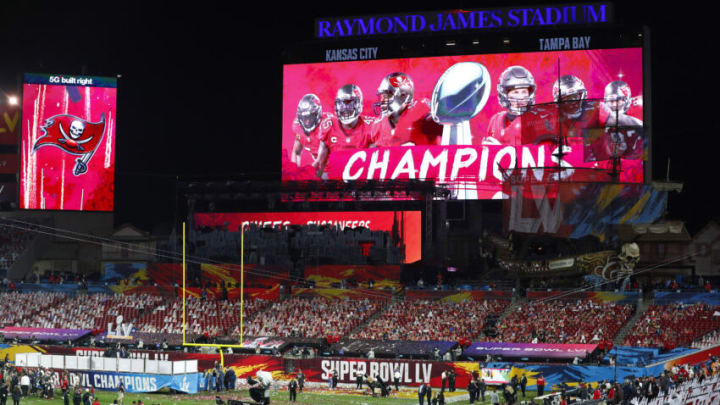 Tampa Bay Buccaneers, (Kim Klement-USA TODAY Sports) /
The Buccaneers are about one thing in 2021; go for two.
One Super Bowl is great. Two Super Bowl wins is even better. The Buccaneers aren't just sitting down after hoisting the Lombardi Trophy and sitting in the shade, even though they have earned some time to enjoy themselves after winning the highest honor.
This team is all about searching for the next ring, and most of the players took little time to rest and celebrate after their big win in February. The Buccaneers are hungry, and the fans should know what to expect from their team in 2021.
The Bucs aren't running it back; Bruce Arians was very clear about this during the boat parade. No, the Bucs are going for two (and then hopefully three, four, and five), and they are doing everything possible to keep the fire lit en route to another tough season.
The main goal of this franchise has to be bringing back that intensity, fire, and success from last season. The Chiefs were close with their mantra of "run it back," however, this isn't good enough. "Run it backs" means repeat. Do everything the same and hope it works. "Going for two" means the same personnel on the field, but likely a different play than the one that scored the touchdown, adapting to the circumstances.
The Buccaneers have the same players coming back and the same captains from 2020. The same guys are on the field, but this team isn't trying to do everything the same and hoping to win.
The Buccaneer mentality is all about trying to win above all else, and doing the same thing is not a part of that plan that is set in stone.
As for the captains, these guys were the leaders last season, and there is no reason to change that yet. These guys led their team to victory on the biggest stage last year, and each one is a significant contributor at their position. There were no better choices.
The team is ready, the captains are ready, and the Buccaneers are in a great position to go for two in 2021.
Want to write about the Buccaneers? Apply below!