Buccaneers: Week one spoiler alert vs. Dallas Cowboys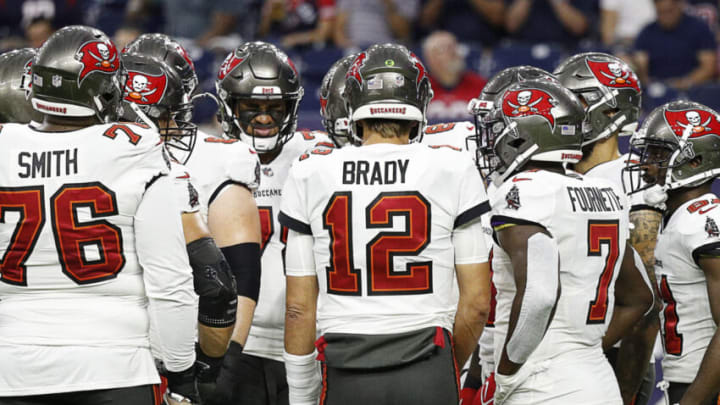 Tom Brady, Tampa Bay Buccaneers (Photo by Bob Levey/Getty Images) /
The Tampa Bay Buccaneers are set to kick off both their and the entire NFL's 2021 season when they play the Dallas Cowboys on Thursday Night. If you'd like to know ahead of time what will happen during the Buccaneers opening game, read ahead. Be warned though, this is your spoiler alert.
There are many professionals in the business of predictions, especially in sports, but there aren't many in the business of fortune-telling. The closest thing in sports is in wrestling when manager Paul Heyman gives his spoilers before his clients' WWE matches. If you don't get the WWE reference that's fine. AEW is better than WWE anyway. The point is, this little song and dance is not suppose to be what we think is going to happen, oh no. We are telling you what will happen. You can take it to the bank if you want to, or you can circle back and see if the future was changed after someone read this in order to prevent it. Either way, beware of spoilers ahead.
When the Buccaneers take the field on September 9th, it will be the start of the 2021 NFL season, and the start of the Bucs' quest to "go for two" with all 22 of last year's starters and some change. They of course will be lead by the greatest of all time in Tom Brady. Brady himself is 3-1 on the Thursday kickoff games, with the only defeat coming in his previous matchup during the 2017 season against the Kansas City Chiefs. Brady is not losing two of these in a row. The Buccaneers will win the football game.
Stream the Bucs with fuboTV. Cloud DVR, local channels available in most markets, no cancellation fees. Start a 7-day free trial today.  
Sure, we can end your kickoff spoiler right there by revealing that the Buccaneers will beat the Cowboys, but that isn't much fun. Let's start really sipping on some tea.
As for the game itself, it'll be what has become typical for both teams. Brady and the Bucs will pick up where they left off in the preseason with a scoring drive to kick off the campaign. One thing to remember is the Buccaneers offense is loaded (as we know), especially at wide receiver whereas the secondary of the Cowboys is just sorry. Their defense as a whole isn't exactly the crème de la crème either, which should see them overmatched against the high-powered Buccaneers offense.
Speaking of high-powered offenses, the Cowboys offense isn't too shabby themselves. From sea to shining sea, it seems everyone is excited to see what this offense can do now that they should have a full season of Dak Prescott. There's a bit to uncover there though. In today's fantasy football-obsessed football culture, everyone loves to rave about how Prescott was on pace to throw for well over 5,000 yards. While that is true what is also true is that the Cowboys were 1-3 before he was injured, on their way to 1-4 and easily could have been for 0-5 if not for a typical monumental Atlanta Falcons collapse.
With that being said, this game will go for Dallas how they typically do when they play a team that's actually good, which the Buccaneers certainly are. The Bucs should jump out to a huge lead of about 34-10, in which case they'll call off the dogs and take their foot off the gas a bit, leading to Prescott throwing his typical garbage time touchdowns, with the Bucs adding a late field goal to make the final score 37-24. It's the typical Dallas game that seems a lot closer than it actually was when only looking at the box score.
As we said earlier, this is not a prediction, but a spoiler for the game. When it pans out, we told you so. If it doesn't, then someone went out for their way to change the future after reading this. Either way, it's great for Buccaneers football to be back in our lives.