The hero of the Buccaneers isn't quarterback Tom Brady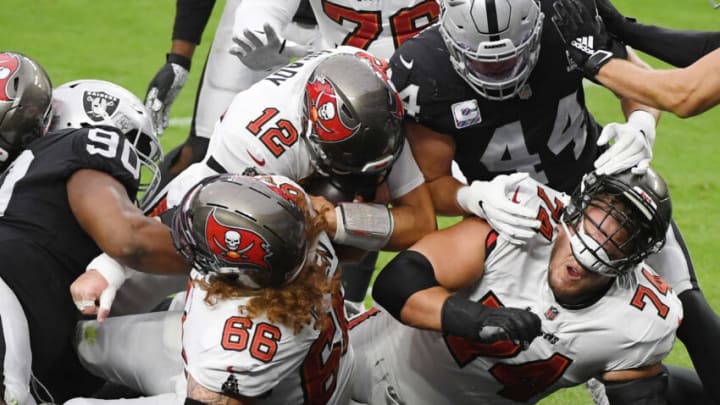 Ryan Jensen, Ali Marpet, Tampa Bay Buccaneers (Photo by Ethan Miller/Getty Images) /
The Buccaneers have more than one obvious hero.
Ever since his arrival, it's no secret that Tom Brady has made a nearly immeasurable impact on the Tampa Bay Buccaneers. Despite his age, his caliber of skill has barely, if at all, decreased, and his leadership and experience is second to none in the league.
However, there is one component of the Bucs team that is too often the unsung hero, that slips under the radar while the star-studded offense or top-tier defense claims the credit for wins, and make no mistake, this article isn't too discredit either of them. However, It would be wrong to not point out the unexpectedly great performance of the Buccaneer offensive line throughout the 2020 and current 2021 seasons.
Bucs fans all heard the criticisms at the start of the 2020 season that Tom Brady had never played with an offensive line as bad as the Bucs, which combined with his age, will be the downfall of the team. Thankfully, all those critics couldn't have been more wrong.
The Buccaneers offensive line rose to the occasion time and time again, giving excellent protection to an aged Brady, so much so, that after a few games no one even mentioned the offensive line, but instead Brady and Bruce Arians were the ones rightfully criticized until the team began to hit their stride later in the 2020 season.
And with the beginning of the 2021 season, yet again the offensive line came up big. In the Bucs' first game of the 2021 season, while the defense struggled to contain the Cowboys, it was the offensive line that allowed not two, not one, but zero sacks to Brady.
This impressive feat was accomplished in a game where Brady threw the ball over 50 times with 379 passing yards, yet still finished the game with a clean jersey. To compare, Brady only had two occasions during his entire tenure with the Patriots that he threw for over 375 yards without getting sacked. 
Let Bucs fans not forget it was this same offensive line that also protected Brady well enough to play most of last year with a hurt knee and never take "the season ending hit" that could have easily come.
Though there are certainly no unskilled components of this Bucs team, it's due time that the offensive line gets the credit anyone that's been watching already knows they deserve.