Buccaneers: Tom Brady makes history with Pro Bowl nod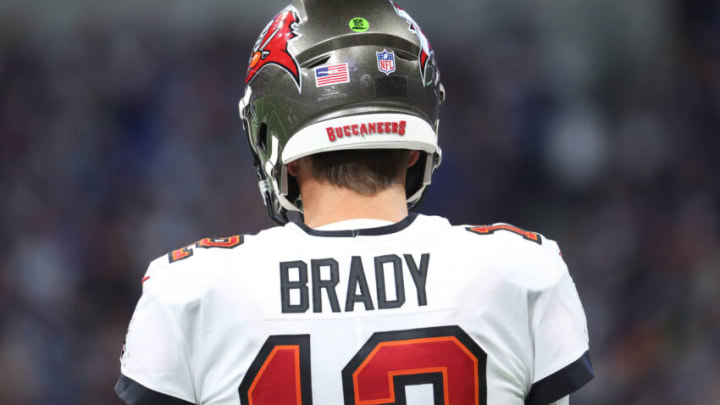 Tom Brady, Tampa Bay Buccaneers (Photo by Andy Lyons/Getty Images) /
By being selected to his 15th career Pro Bowl, Buccaneers quarterback Tom Brady has once again made NFL history.
As if Tom Brady needed any more records or accolades in general, ol' TB12 went and did it again. Of course, we wish we could report this achievement in happier times considering the embarrassment that was the Tampa Bay Buccaneers' 9-0 loss at home to the New Orleans Saints that resulted in a torn ACL for Chris Godwin, but alas.
During the early revelations of several NFL Pro Bowlers, the GOAT of GOATs was listed among those voted to play in the "game". This marks the unheard of 15th time that such an honor was bestowed upon the glorious shoulders of Brady which now gives him the all-time record.
As insane as 15 Pro Bowl selections sounds, it's almost even crazier that he is only the record holder by one season, passing four other NFL legends who were 14-time Pro Bowlers.
One legend was tight end Tony Gonzalez of Kansas City Chiefs and Atlanta Falcons fame and considered the GOAT of that position by many before Rob Gronkowski came down the pike, because apparently when it comes to tight ends people only consider players after 1990 but that's a discussion for another day.
Defensive tackle Merlin Olsen, who spent his entire career with the Los Angeles Rams was voted to the Pro Bowl his first 14 seasons in the NFL, with his final season in 1976 being the only season he wasn't. Bruce Matthews, who played every position on the offensive line for the Houston Oilers/Tennessee Titans also now sits in second for most Pro Bowls. Naturally, Peyton Manning rounds out the 14-timers club, because Brady can't sit back and let Manning have anything.
While it would be so much better if this news came after a Bucs victory, that doesn't mean you can't sit back and marvel at the unrivaled greatness that is Tom Brady.