How Tom Brady can make up ground in the MVP race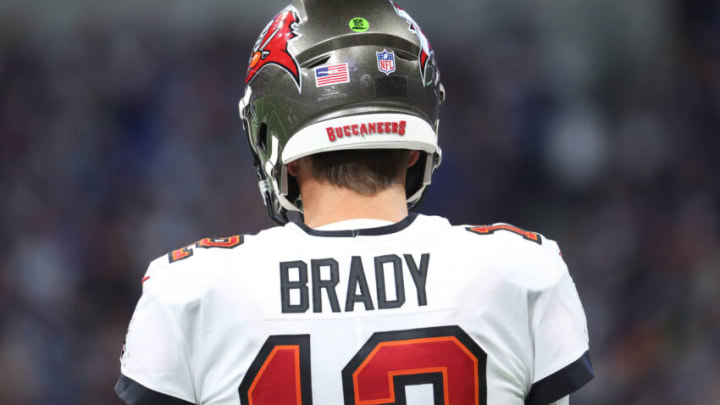 Tom Brady, Tampa Bay Buccaneers (Photo by Andy Lyons/Getty Images) /
There is still time for Tom Brady to prove his value to the Buccaneers in the eyes of the NFL MVP voters.
The 2021 season hasn't quite lived up to billing for Tom Brady and the Buccaneers. Injuries and some minor slip-ups have left some fans wanting in regards to the lofty preseason expectations for the one of the best rosters in football, but the season isn't over yet.
The Bucs also struggled at times last season, yet they won the Super Bowl. There is still a chance for a Super Bowl run this year, and there could also be the added bonus of the franchise rostering its first MVP.
Tom Brady has been at the top or near it in the MVP rankings for most of the season. In fact, Brady was the favorite up until the Saints game, where the offense failed to score any points, and now there is a need for a push if Brady wants to win the award for his second team.
The odds may seem long for Brady and the offense to dominate with so many injuries over the next three weeks, but this could actually work in his favor.
If the offense comes out and dominates without Mike Evans, Chris Godwin, and Leonard Fournette, Brady makes a pretty compelling case that his value for the Bucs is greater than his counterparts on other teams.
Sure, Brady may still have Antonio Brown for the next three games, but the rest of his compliment is far from full strength. The offensive depth has been less than impressive this season, but Brady has a way of elevating his teammates.
A week of practice and knowing that the key contributors will be out should help mentally prepare everyone for what is to come, and this should hopefully help the offense and their chemistry.
It may be a lot to expect a dominant offensive performance out of this group given the circumstances, but anything close to greatness through the rest of the season should make it very hard to overlook Brady when the voting happens.
Want to write about the Buccaneers? Apply below!