Robert Saleh has Tom Brady figured out ahead of matchup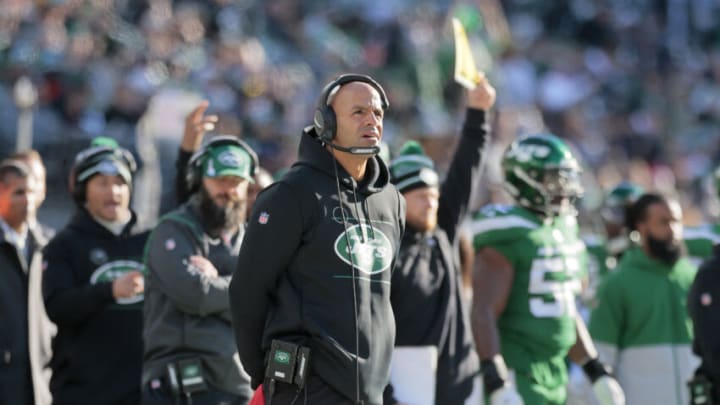 Robert Saleh, opponent of Tom Brady and the Buccaneers(Photo by Jim McIsaac/Getty Images) /
Robert Saleh knows what he is getting into when the Jets face the Tom Brady and the Buccaneers this weekend.
Tom Brady and the Buccaneers face off against the Jets this weekend in a game that should go in Tampa's favor. The Bucs have been the much more complete team this season, but to be fair to the Jets, the team is at least playing better than it did under Adam Gase, not that this means much.
The Jets have a rookie quarterback and a first-year head coach in Robert Saleh, which is generally not a great recipe for success when you face off against a quarterback like Brady or a coach like Arians, but the Jets are at least starting to get the pieces together.
Saleh was one of the popular coaching names this past offseason after putting together some great defenses in San Francisco, and this defensive identity is what he is trying to instill in New York.
This process takes time, but Saleh is a very bright coach, and he shows that perfectly in his analysis of Tom Brady ahead of the game this weekend.
When asked about Brady and planning for a player of his talent, Saleh hit every major point in his explanation as to why it is next to impossible to stop the GOAT, who happens to be playing some of the best football of his career.
From the quickness at which he diagnoses coverage to his status as a "player-coach," Saleh is giving Brady every bit of praise for what has kept him going this long, and this is actually the only way to approach a player like this from a defensive standpoint.
You never really shut down Tom Brady. There aren't many games where he just can't throw the ball and the pass flat-out doesn't work. Your best hope as a defender is to slow Brady down, and it seems like Saleh gets this.
The game on Sunday should certainly go in Tampa's favor, and there isn't much that Saleh or the Jets can do to stop and offense like this, but it is still nice to hear Brady get praise like this from an opposing coach during a time where many unqualified commenters believe Brady is nothing more than a check-down artist.
Robert Saleh is one of the most qualified people active in the sport today to comment on Tom Brady, and if he gets it, then so should everyone else.
Want to write about the Buccaneers? Apply below!