Tom Brady sends message to rest of the NFL on game-winning drive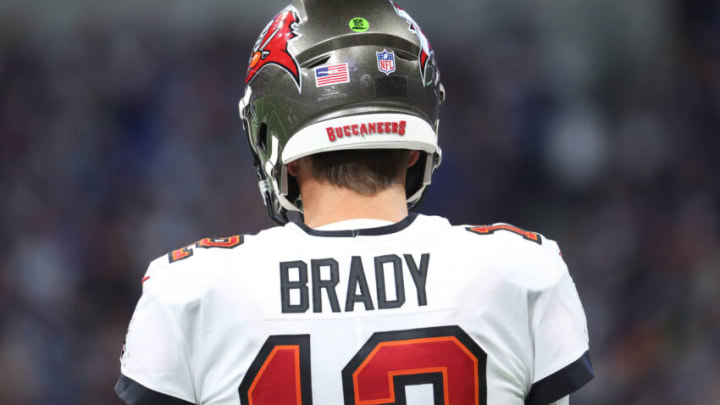 Tom Brady, Tampa Bay Buccaneers (Photo by Andy Lyons/Getty Images) /
Yes, the win today was only against the Jets, and it was a very messy win at that, but Tom Brady put the NFL on notice with the final drive.
Winning is everything in the NFL, but not all wins are created equally. Tom Brady and the Buccaneers won a sloppy game today with a very depleted roster, and while some would've like to see Tampa win the game with a bit more emphasis on the scoreboard, the situation was pretty dire from the start.
The Bucs didn't have their starting edge rushers and two of their starting corners to begin the game. When you add in Lavonte David, who is still the best defensive player on the roster, to the list of missing player, the defense as a whole was going to face an uphill battle from the opening whistle.
The situation wasn't much better on offense with Chris Godwin and Leonard Fournette being the major losses, but that quickly got worse. As the whole world has seen by now, Antonio Brown quit playing for the Buccaneers during the game, and it looked like that was going to put Tampa in an even worse situation during the losing affair.
Instead of rolling over without two of their best receivers, Tom Brady and the Buccaneers showed that they didn't need Brown to be a great offense, and they were able to put together one of their best offensive drives of the season with Cyril Grayson and Tyler Johnson leading the way.
Critics will always point to the stacked teams surrounding Brady as the reasons for his success, but today showed that Tom Brady can make any situation work. Playing without AB is difficult, but this room is still far more talented than some of the receiver rooms that Brady has worked with in the past.
If there was any question about whether or not Brady is still himself, today proved otherwise. 410 yards and three touchdowns is hard to argue with, especially when this was the only way Tampa had any offense, and the rest of the league now has no question about who the most valuable player actually is.
Want to write about the Buccaneers? Apply below!