Drama makes Tom Brady MVP case with Buccaneers even better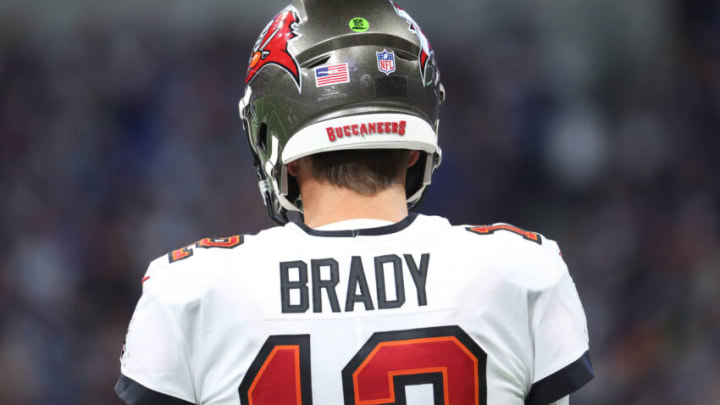 Tom Brady, Tampa Bay Buccaneers (Photo by Andy Lyons/Getty Images) /
Tom Brady and the Buccaneers have faced plenty of drama this season, but that only helps his MVP case rather than hurting it.
Drama isn't slowing down Tom Brady and the Buccaneers. Despite everything that has been going on with Antonio Brown throughout the season, Tampa is still sitting at 12-4 with the potential to win their first 13th regular season game in franchise history.
The Bucs have been in far worse situations.
Losing Brown will hurt the team on the field during the playoffs, but it may actually help Tom Brady's MVP chances. In recent years, it seems like quarterbacks with great supporting casts lose ground over their counterparts with weaker situations, and Brady leading the league in touchdowns and passing yards with everything going on is huge.
Yes, Aaron Rodgers has been excellent this year, but he has been the cause of drama for the Packers for the past year, and his defense has been far better than Brady's.
On the other hand, Brady isn't using the season as a means of furthering his opinions or quarreling with the media, and he has handled every curve in the road with confidence.
During the season, the GOAT lost Rob Gronkowski, Mike Evans, Chris Godwin, Antonio Brown, and Leonard Fournette, yet this didn't lead to a drop-off in production. Brady came out and played his game, regardless of which weapons showed up that day, and the most recent game puts this in perspective the best.
The Buccaneers were facing every bit of adversity in the game last week. Losing to the Jets mixed with Brown's antics during the game could've easily led to a loss, especially with Godwin and Fournette also out, yet Brady didn't let this happen.
Posting over 400 yards and three touchdowns in a game such as this shows everything you need to know about the value Brady brings to this roster. The MVP award isn't best player, it is most valuable player, and no one brings more value to the Bucs than their quarterback.
Want to write about the Buccaneers? Apply below!