The irrefutable case for Buccaneers QB Tom Brady to win MVP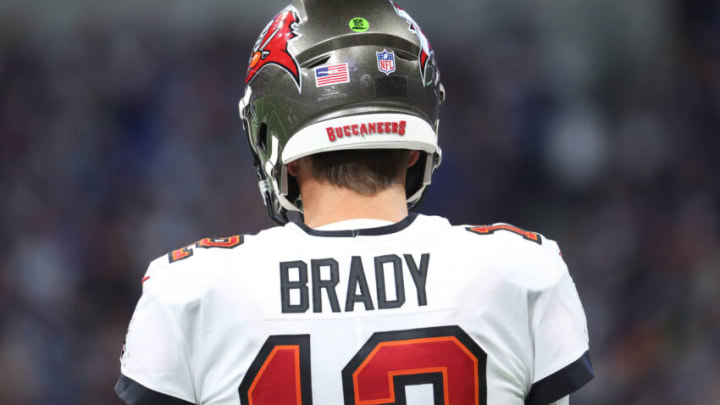 Tom Brady, Tampa Bay Buccaneers (Photo by Andy Lyons/Getty Images) /
Regardless of what happens, Tom Brady is at least playing at an MVP level for the Buccaneers.
It's no secret to the league that Tom Brady is still great, much to many general managers' chagrin. Like LeBron James, who was often overlooked when it came time for giving out hardware at the end of the season, Brady also deals with a similar problem; they're both too good.
It's almost funny throughout both the careers of Brady and James how many times there would be unanimous agreement around their leagues that each player was clearly the best yet would not win an MVP.
The same thing is happening this season, as it seems likely that Brady and the Buccaneers will get overlooked in favor of Aaron Rodgers.
Rodgers is also having a great season, but his best selling point isn't actually as practical as most would think.
Voting against Tom Brady in the MVP race due to use makes no sense
Brady leads the league in passing yards, passing touchdowns, and completions. On the other hand, Rodgers is tenth in passing yards, fourth in touchdowns, and 11th in completions. Rodgers also has the fewest interceptions amongst starting quarterbacks with three compared to Brady's 12.
Now, looking at these numbers, the argument is actually quite close, but for the first time in history, longevity and use are actively working against greatness. Because Brady threw the ball too many times (188 times more than Rodgers), his stats are less impressive.
Seeing as Rodgers likes to come up with new acronyms, the award isn't for the MEP or, most efficient player. It is for the most value. Why does yards per throw equate to more value than total yards on total throws?
Fewer picks are great, but are fewer touchdowns at the expense of fewer picks really bringing value to the team?
Leading history in total strikeouts is a badge of honor in baseball that is almost always tied to the Hall of Fame, yet throwing more in football (and making more mistakes as a result) has your value relegated below the player that was a distraction for the entire season?
Rodgers' feet were a bigger NFL story for a month than his MVP campaign.
Make it make sense.
Brady's 7.4 yards per attempt aren't even wildly different from Rodgers' 7.7 ypa. If the award is about efficiency, then perhaps the committee should look more into Joe Burrow and his 8.9 yards per attempt.
Instead, the award should look at supporting casts, final records (the exact same), and other circumstances to quantify value actively.
How does Rodgers' team outrushing the Bucs 1900-1672 show his value? And does Brady's receivers averaging 5.3 yards after the catch have any relevance in this conversation when Rodgers' receivers average 5.9 yards after the catch?
Brady has more completions and more yards to receivers that are doing less per catch than Rodgers, and he is doing all of this with a weaker run game.
At least Brady had the far better defense to carry him! Oh, wait.
The Buccaneers defense gave up more passing yards, similar yards per carry numbers on the ground, and was nearly identical on points per game.
Neither defense had a direct advantage, which brings us right back to the offense and one central question: which team does worse if they lose their starting quarterback? Is it the Packers with a recent first-round pick that kept the game close with the Chiefs, or is it the Buccaneers with a career backup that averages 193 yards per start and a 56.3% completion rate?
And just so we're clear, Jordan Love hasn't looked great for a second and still has a higher completion rate than Blaine Gabbert.
It isn't difficult. The Buccaneers need Brady far more than the Packers need Rodgers, but both teams would still be terrible without their starting quarterbacks.
Tom Brady's Buccaneers averaged more passing yards and more points than the Packers, and they did all of this without Buccaneers fans worrying what crazy thing Brady would say to the media next.
Off-field firestorms matter in situations evaluating value. The quarterback that can keep Antonio Brown under control for as long as Brady did brings far more value to a team than one that is actively putting the organization in a worse position week in week out.
The MVP process is horrifically flawed for a system that actively awards throwing the ball less for a position that is based around throwing the ball, but this isn't the first slight against Tom Brady and the Buccaneers, and it certainly won't be the last.
A time will come when the league will get to see who the best quarterback is, and that campaign begins tomorrow when Brady and the Buccaneers take the field against the Eagles.
Greatness can only get overlooked for so long, and Tom Brady has a way of making it impossible to ignore his talent when you doubt him. The voters will learn this soon enough.
Want to write about the Buccaneers? Apply below!