Buccaneers have some explaining to do with under-used weapon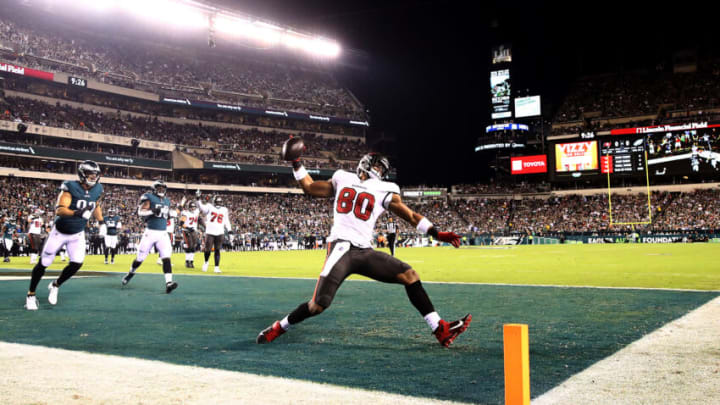 O.J. Howard, Tampa Bay Buccaneers (Photo by Tim Nwachukwu/Getty Images) /
The Tampa Bay Buccaneers have had a less than ideal season in reference to the quantity of injuries they've suffered to star and role players alike. Time and time again, it has forced Bruce Arians to put players in the game that he would never have thought would see the field this season.
But be that as it may, the Bucs have continued to persevere all season and were able to earn the #2 seed in the division heading into the playoffs this weekend.
But with all the injuries, one would think there would be few players that would step up in the voids created by the starters, but that hasn't been the case with tight end O.J. Howard. Howard has been on the field, but the sheer lack of touches comes as a surprise for a player that is in an evaluation year.
This is particularly shocking given the fact that Howard is not some young role players such as Scotty Miller, but instead a player that was the Bucs starting tight end for the past few years and was thought to be be a major contributor in a Tom Brady offense.
Even when starting tight end Rob Gronkowski was injured for multiple games in the middle of the season, Howard still did not step into a major role. Instead, the team opted to continue to use Cameron Brate, who has surprisingly seen a fair number of catches despite playing behind Gronkowski all year.
One has to wonder if Howard's lack of playing time is a result Bruce Arians or Tom Brady. There could be things about Howard personally or professionally that Arians doesn't like leading to his disappearance in the game plan, which seems to be the case with Ronald Jones lack of playing time as well. It could simply come down to Brady feeling more comfortable playing with Brate and Gronkowski than he does with Howard. It could also be some combination of the two.
Regardless of the reason, the Bucs are wasting the talent of Howard with him on the bench and undoubtedly need to find something to do with him this post season.
Want to write about the Buccaneers? Apply below!