Buccaneers Bruce Arians QB quote should have double meaning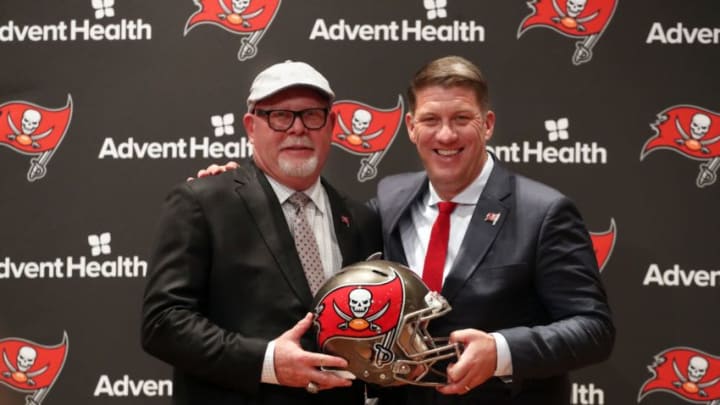 Bruce Arians, Jason Licht, Tampa Bay Buccaneers Mandatory Credit: Kim Klement-USA TODAY Sports /
Bruce Arians has never been the one to waste words with the Buccaneers, and his recent quote on the future should pique interest.
In all likelihood, the Buccaneers should still have quarterback Tom Brady at the start of the 2022 NFL season. There is almost no way that Brady will retire after playing unremarkably against the Rams, but there is still plenty of conjecture.
The talking heads in the media spent the last week wondering if we have finally seen the last of Brady, and the Buccaneer coaches wouldn't be doing their jobs if they weren't at least planning for this thing to go sideways.
Bruce Arians has already spent time talking about the future and where he stands, and one of his recent quotes should stand out as unique.
In a quote Tweeted out by Rick Stroud, Arians showed the right mentality on how to handle the position going forward if the unthinkable happens.
Faith in Gabbert and Trask was undoubtable. The front office has showered Gabbert with praise from the jump, and Trask is a Day Two pick. These two are obviously the favorites to lead in the event of a Brady departure, but the "door number two" comments stands out for several reasons.
First, it shows that this coaching staff is always looking for the best quarterback possible, just like when they moved on from Jameis Winston for Brady, and that is always the right decision to make.
Second, door number two is an interesting way to put it when a starting quarterback is about to leave his team that moonlights as a gameshow host.
Moving on from Tom Brady to Aaron Rodgers would be unbelievable for the Buccaneers, but it isn't out of the question. Rodgers is still far better than Trask or Gabbert, and while Bruce probably wouldn't make comments like this intentionally, perhaps this connection should start to develop a little more steam if Brady does retire, and maybe Arians should mean this if they begin a quarterback search.
The would sure be one way to soften the blow of losing the GOAT.
Want to write about the Buccaneers? Apply below!