Best Buccaneers player during each US presidency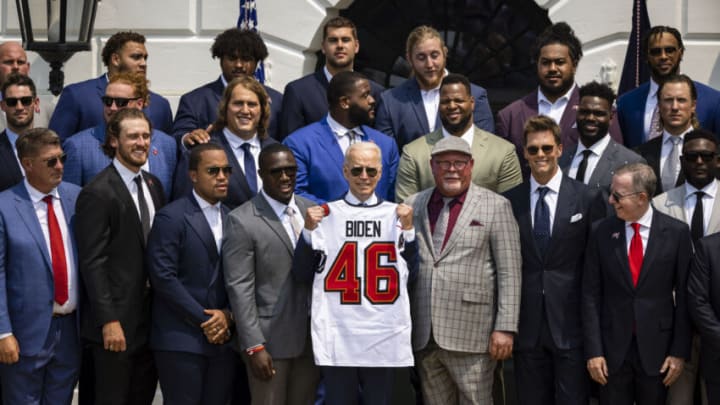 President Joe Biden and the Tampa Bay Buccaneers Mandatory Credit: Scott Taetsch-USA TODAY Sports /
Lee Roy Selmon, Tampa Bay Buccaneers (Photo by Michael J. Minardi/Getty Images) /
Best Buccaneers player during the Ford Administration – Lee Roy Selmon (DE)
Gather round kids and let's tell a story about the birth of the Bucs. You see before Tom Brady came to town and turned the Buccaneers into a force, the franchise was historically known for being more of a farce, and that was not more evident than during the Buccaneers' first season and a half.
The team began play during the 1976 season coached by the legendarily hilarious John McKay and proceeded to drop their first 26 games in franchise history, finally defeating the New Orleans Saints 33-14 on December 11th, 1977 for an early Christmas present. For those wondering, their first loss, and game in general, was a 20-0 shutout at the hands of the Houston Oilers, who technically don't even exist anymore.
However, it wasn't ALL bad during that first season which occurred during America's bi-centennial. Derrick Brooks is often called the greatest Buccaneers of them all, but until him, Lee Roy Selmon had that honor. In fact, many think he still does.
Not only was he long considered to be the best Buc, but he is Mr. Buccaneers himself. Selmon was the franchise's first-ever draft pick in 1976, he was the franchise's first-ever inductee into the Hall of Fame in 1995, and until Derrick Brooks and Warren Sapp, was the first and only Buccaneers player to have his number retired by the franchise.
Selmon was there for the putrid (26-game losing streak) and the party (1979 NFC Championship). He was the kind of player a franchise can build their team around, and the Buccaneers did exactly that.
Given how bad the expansion team Bucs were, Selmon is really the only choice when it comes to the one season played during the Ford Administration.