Best Buccaneers player during each US presidency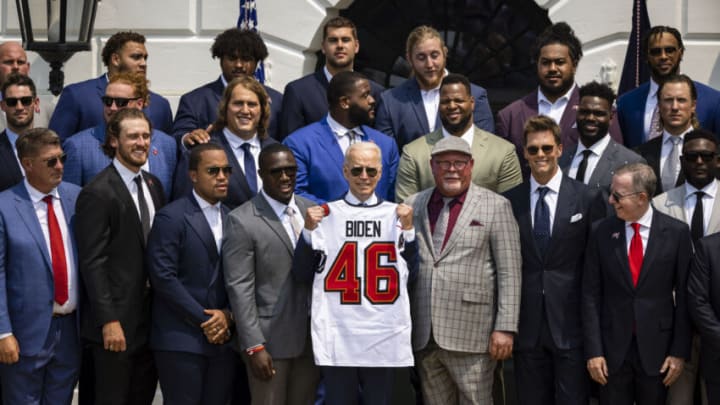 President Joe Biden and the Tampa Bay Buccaneers Mandatory Credit: Scott Taetsch-USA TODAY Sports /
Doug Williams, Steve Wilson, Tampa Bay Buccaneers (Photo by George Gojkovich/Getty Images) /
Best Buccaneers player during the Carter Administration – Doug Williams (QB)
Truth be told, Selmon could easily have occupied this spot, and Ricky Bell has a case as well. However, his first and only All-Pro season (and first Pro Bowl nod) came in 1979. While it's also true that Doug Williams was never a Pro Bowl quarterback with the Buccaneers, his impact goes far beyond statistics and accolades.
When the Buccaneers selected Williams out of Grambling with the 17th overall selection in the 1978 NFL Draft, he became the first African-American quarterback taken in the first round of the NFL Draft.
After a combined record of 2-26 (and losing their first 26 games as we said), fans were excited to finally have their quarterback. How excited? Well, Williams's first pass with the Buccaneers came in the preseason that sailed ten yards over the head of Issac Hagins, but the Tampa crowd still gave a standing ovation. Why? Well, because it was the first time the Bucs had a quarterback capable of throwing long passes downfield. We've come a long way.
The Buccaneers improved to 5-11 in 1978 with rookie Williams then 10-6 in 1979, winning the then NFC Central. That year, the Buccaneers would advance all the way to the NFC Championship with Williams at the helm.
Given how the fortunes of the franchise turned around, in both directions, before and after Williams, he gets the nod for the best Bucs player during the Carter Administration.