Best Buccaneers player during each US presidency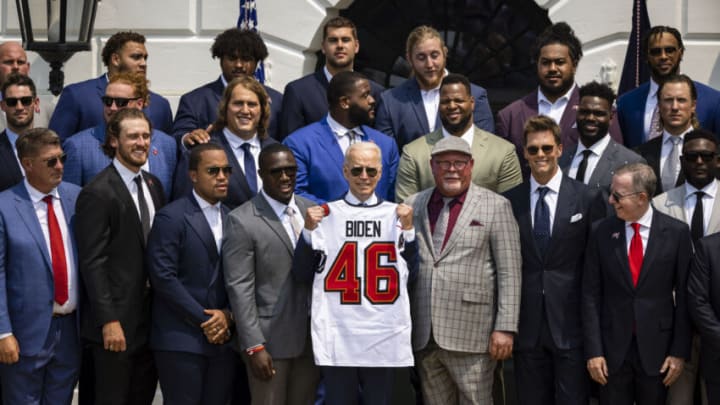 President Joe Biden and the Tampa Bay Buccaneers Mandatory Credit: Scott Taetsch-USA TODAY Sports /
Lee Roy Selmon, Tampa Bay Buccaneers (Photo by Focus on Sport/Getty Images) /
Best Buccaneers player during the Reagan Administration – Lee Roy Selmon (DE)
He's back like Grover Cleveland. That's a presidential joke for the fellow history nerds out there. Perhaps the most significant American advancement during the Reagan Administration was sacks becoming an official statistic in 1982. Coincidentally, it's also around when the passing game in the passing game in the NFL began to take off, and the career of Selmon.
Officially, Selmon finished his career with 23 sacks, which would land him 16th on the Buccaneers' all-time list. The thing is, Selmon, retired after the 1984 season, after spending his entire nine-year career in Tampa. Since sacks weren't an official stat until 1982, the NFL only accounts for his final three seasons.
Thanks to Pro Football Reference, we now know that Selmon finished his career with 78.5 sacks,  1.5 more than the franchise's official all-time sack leader, Warren Sapp. Thus, Selmon is the Buccaneers' new all-time sack leader (unofficially).
Selmon would d be voted to four of his six Pro Bowls during the Reagan Administration, most of all Bucs. Here's the kicker though. Selmon retired in 1984, the year Ronald Reagan was re-elected for his second term. This was also around the time the Buccaneers franchise took a nose-dive as a result of the Doug Williams fiasco. The only other Pro Bowl season would be James Wilder in 1984, Jimmie Giles in 1985 (who both may have a bit of a case for this spot on the list). Hugh Green was voted to the Pro Bowl in 1982 and 1983 for whatever that's worth.
This is quite reflective of the state of the Bucs, and it would be a while until it got any better.