Buccaneers still betting favorites to win NFC South despite uncertainty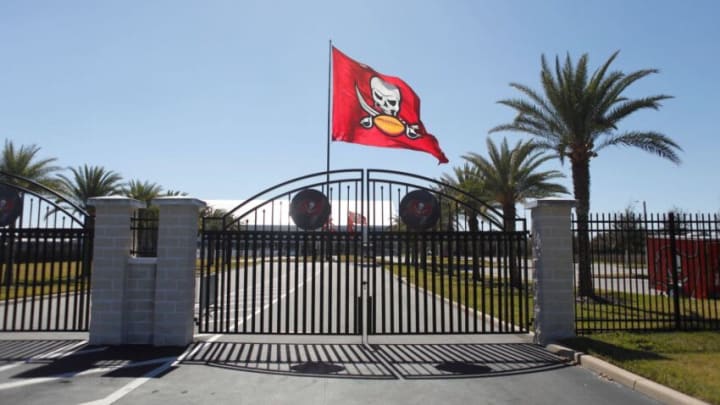 The entrance of the Tampa Bay Buccaneers headquarters in Tampa, Florida, on February 1, 2022 (Photo by OCTAVIO JONES / AFP) (Photo by OCTAVIO JONES/AFP via Getty Images) /
Even though the Tampa Bay Buccaneers have question marks all over the place, most notably at the most important position of quarterback, the Buccaneers are still the betting favorites to win the NFC South in 2022.
It really is amazing what a little success can do. Tom Brady came to Tampa Bay in 2020 and boom. The Bucs were Super Bowl champions. After a devastating defeat to the eventual Super Bowl champions Los Angeles Rams in the divisional round of the 2021 season's playoffs, Brady has called it a career. The Buccaneers now find themselves not knowing who their quarterback will be going forward, or if a huge amount of veterans from the last two seasons will even be back.
Despite all of that, the Buccaneers are still favorited to win the NFC South.
According to BetMGM, the Bucs are sitting at +140 to repeat as NFC South grand-poobahs, with the New Orleans Saints in second at +220, followed by the Carolina Panthers and Atlanta Falcons at +375 and +500 respectively.
The biggest factor of this, shall we say "praise" is probably due to the fact that the Bucs should still have a solid roster despite the quarterback quandary, and even though they will only be able to retain a handful of players from their recent period of glory.
Of course, this is in comparison to the rest of the division. The Buccaneers have some things to figure out to be sure, but not nearly to the extent as the teams they play twice per year. Sean Payton and Drew Brees are gone from New Orleans, the Panthers seem to not know what they're even doing, and the Falcons have question marks all over their skill position players and an ancient Matt Ryan at quarterback.
To put it bluntly, this division stinks. However, Vegas somehow is almost always on point with these things, and while some fans may look at winning this division as nothing more than a loss of draft capital and an early playoff exit, you never know what can happen once you get into the playoffs, and host a game at that. Besides, in the land of the blind the one-eyed man is king, time will tell if that one-eyed man is a pirate.