Buccaneers find immediate MVP favorite for 2022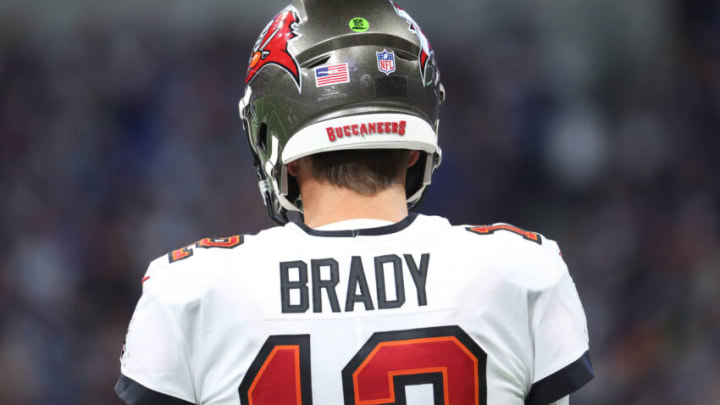 Tom Brady, Tampa Bay Buccaneers (Photo by Andy Lyons/Getty Images) /
Well, the long offseason for the Buccaneers is over. Tom Brady is coming back to lead the team, and the Bucs keep their MVP candidate.
Oh, the roller coaster of emotions. The Buccaneers went from everything looking rough to being right back in contention for the Super Bowl with one announcement from Tom Brady.
The GOAT didn't last in retirement. None of us are sure how it only lasted for just over a month, but we aren't going to complain.
The Buccaneers get the best quarterback from the 2021 season back for one more shot at a Super Bowl in 2022, and Brady is in search of addressing some unfinished business.
Brady should've won the MVP last season. The GOAT was better than Aaron Rodgers and no one would ever dispute his impact on turning the Buccaneers around.
Not only does this give Brady another shot at winning the first-ever MVP award for the Bucs and another one for his own collection, but it keeps the Buccaneers in a great position going forward.
As usual, having a good quarterback is the only way to be a consistent team in the NFL. You aren't going to win many Super Bowls with a subpar quarterback, and Tom Brady is the furthest thing from that.
The team will now stay together; the same team (with a few exceptions) that was in contention for two Super Bowls.
There isn't much better news the Buccaneers could've received. Tom Brady sure did seem to enjoy retirement for as long as it lasted, but we already know that he will be back, ready to work, and ready to compete soon enough.
The outlook for the 2022 season just got much brighter in Tampa. It is going to be very exciting to see it all again.
Want to write about the Buccaneers? Apply below!
The Pewter Plank /
Want your voice heard? Join the The Pewter Plank team!