One Buccaneers Free Agency Target from Each NFC East Team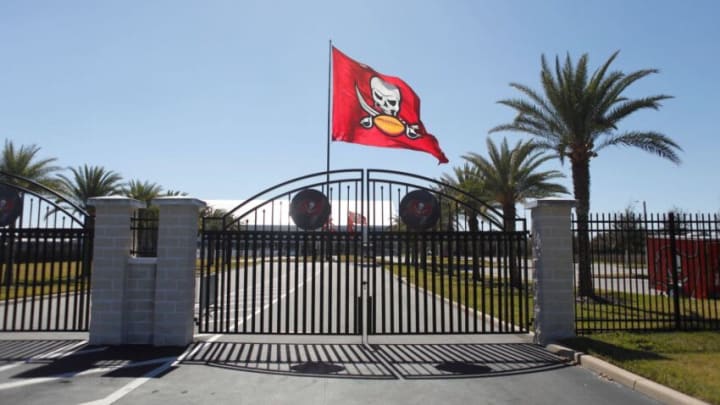 The entrance of the Tampa Bay Buccaneers headquarters in Tampa, Florida, on February 1, 2022 (Photo by OCTAVIO JONES / AFP) (Photo by OCTAVIO JONES/AFP via Getty Images) /
The steady march towards free agency continues, and so does this series of articles detailing one player from each NFL team that the Tampa Bay Buccaneers should make a move for.
As usual, the rule remains the same; to avoid repetition in the selections, only one member of each position group has been chosen per division. This means that if, for example, someone like Allen Robinson appears on the list then Davante Adams could not, because they play the same position and share the same division.
Everyone on board? Then lets dive into the NFC East.
Previous articles: AFC East, NFC West, AFC West, NFC North, AFC North
New York Giants: Evan Engram – TE
The effect of Tom Brady's retirement has far-reaching repercussions. Even discounting the loss of the G.O.A.T., with Brady leaving so too will several of the players that he brought to Tampa Bay.
Amongst those will likely be Rob Gronkowski, who is set to hit free agency this year and has already fueled speculation about a change of scenery. In his absence, it has grown extremely apparent that the tandem duo of O.J. Howard and Cameron Brate is not the right fit for the TE reliant offense that the Buccaneers love to run.
Enter Evan Engram, a large physical player with good blocking ability and a red zone presence. Engram, a five year starter for the Giants, has all the tools needed to succeed in the NFL, but hasn't been able to put it all together yet.
He has hovered at around a 64.5 PFF grade, which is neither great nor terrible. But for a team like Tampa Bay, with limited cap space and tremendous coaching talent, getting an undeveloped player with great physical tools for cheap is a great deal.
Since Engram is coming off one of his worse years as a pro, the Giants likely wont keep him through their rebuild. The Bucs should pick up the phone, and see if they can get their next QB a solid middle of the field option from New York.
Washington Commanders: Brandon Scherff – G
Brandon Scherff has been more than just one of football's best guards in his seven years in Washington. He's been one of its best offensive lineman, period. Over the course of his seven-year tenure as a member of Washington's football team (through all its name changes), he accumulated 5 pro bowl nods, including a first team All-Pro just two years ago.
Scherff has never played a season at below a 93% total snap share in games in which he played, and has only totaled 29 overall penalties in his career, all per Pro Football Reference.
The knock on Brandon Scherff is twofold; his injury history and the price it will cost to acquire him. Regarding the former, there is a legitimate argument to be made that Scherff is injury prone. He has missed 24 games in the last 5 season combined. That being said, however, his excellence on the field is too notable to pass on just in case he misses some games.
And the amount of money he would ask for would be a small speedbump. The Buccaneers, tasked with the ultimate goal (perhaps the only goal that matters in football) of finding a franchise quarterback, need to give whomever they roll with the tools to succeed. And protection is the most important tool of the bunch. To that end, cap restructures to find the space for Scherff would be an easy fix for the savvy front office at One Buc Place.
No quarterback performs well under constant pressure, and any building of a case for a QB of the future must begin with a solid foundation. Scherff would provide that.
Philadelphia Eagles: Derek Barnett – DE
The Buccaneers' defense these past few years have made a living getting after the QB. And while Todd Bowles typically uses heavy blitzing to accomplish this, everyone's job is made easier when the front four can get pressure themselves. And no position pressures the quarterback more frequently than edge rushers like Derek Barnett.
Barnett himself has had a suboptimal career to this point for a first round selection, but is still perfectly capable of performing as a starter. He has earned a PFF grade of above 67.5 in 3 of his 5 seasons in the league, not at all a terrible rating.
The high pick that the Eagles spent on him, though, may be causing a differing of opinion and fact – just given the expectations for Barnett out of college. That opinion from teams could cause Barnett's value to fall in free agency.
For Tampa Bay, who could be without JPP very soon and with only the unproven Joe Tryon to take over, they could be looking for an understated depth piece along their defensive line. If that is the case, and if Barnett's value truly has fallen as far as expected in free agency, it makes sense for the Buccaneers to take a swing on him.
Dallas Cowboys: Malik Hooker – S
Malik Hooker is another name that has generated far better on-the-field play than their reputation would suggest. Hooker has never posted a PFF grade of below 60, and has actually averaged a grade of 68.7. That's a tremendous number for a player generating so little attention in free agency.
And the name of the game for Tampa Bay right now is value. Without a lot of money to sign free agents (though restructures will surely impact that total significantly in the coming days) the Buccaneers are looking for the best player at the smallest price tag. Malik Hooker fits that bill.
Especially paired with budding superstar at SS Antoine Winfield, Hooker could help secure the deep ball and allow the immensely talented Tampa Bay front seven to run loose for the quarterback. For that production, at the low price tag the Malik Hooker will probably have to sing for, Jason Licht should be excited about putting in an offer.
Want to write about the Buccaneers? Apply below!
The Pewter Plank /
Want your voice heard? Join the The Pewter Plank team!