How will the Buccaneers look different under Todd Bowles?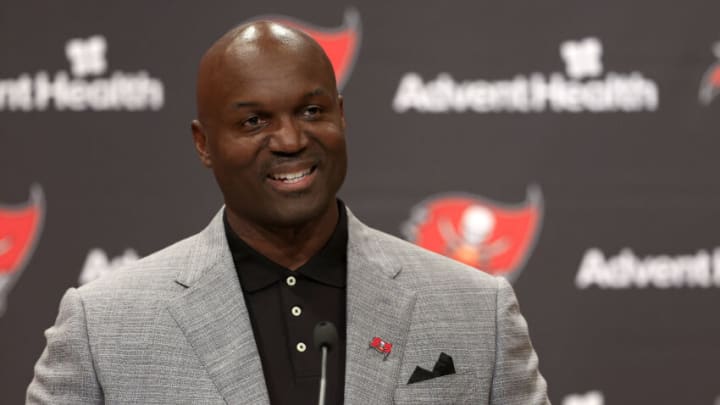 Todd Bowles, Tampa Bay Buccaneers (Photo by Mike Ehrmann/Getty Images) /
With an incredible, headline-grabbing offseason beginning to conclude, and the Buccaneers officially turning the page into the Todd Bowles era, what can Bucs fans expect to see this year? How will the team be kept the same? How will it look different?
Largely, we can expect the culture of the team to look pretty similar to the way it did in the Bruce Arians era. Bowles after all, has had two stints coaching under Arians, and seems to have developed a strong relationship with him during their time together.
Bruce Arians has always been a "players-coach", and Todd Bowles has a similar reputation. How could he not? Not only did Bowles work under Arians as a coach, but Arians also was his coach during his playing career, so it makes sense that much of his style can be predicated to his successor.
While Todd may not be as off the cuff as his old head coach and may not have quite as much of the fiery nature as his mentor, Bowles still has a similar nature of being able to connect with his players.
It showed in Bowles' days with the Jets, where he took a team that went 4-12 and was a league and media laughing stock, and turned them into playoff contenders in his first year, going 10-6. Yes, that first year was his best, but he was also with a franchise that hadn't had a winning record in 5 years, and still hasn't had one in the 6 years since.
Todd got his players rallied behind him, and fast. He made their roster better, and while uneven QB play certainly derailed his time there,  I believe it shows that he can maximize talent, and the talent that is available on the current Buccaneers roster far exceeds what he had to work with in New York. Todd also has consistency at the offensive coordinator position, as Byron Leftwich returns this year, after flirting with the idea of becoming a head coach himself, to lead this squad with a lot of returning firepower.
On the defensive side of the ball, Todd will have two faces that he is familiar with; Larry Foote and Kacy Rodgers, both sharing the duties of overseeing the defense, but he will plan on continuing to call the plays on game day as he did last year.  The consistency of culture Todd brings and the familiarity with leadership overseeing both sides of the ball means Tampa will probably not LOOK strikingly different year over year, however, there should always be change expected when there's a new sheriff in town.
While some things may be consistent, what should we expect to look different in Todd Bowles first season as the head coach in Tampa?
For starters, Todd Bowles will likely have more of a commitment to the run game than his predecessor. In his tenure with the Jets, Bowles consistently placed emphasis on a ground and pound style, and that showed as the Jets twice finished in the top-12 in the league for total rushing yards during his time.
Obviously Bowles will have one of the best passing attacks in the league, but the usage of Leonard Fournette, and potentially Rachaad White could certainly be  higher than the running back usage Tampa has seen under Arians.
An interesting note here is that our new addition at guard, Shaq Mason, ranked 9th out of all guards in the NFL last year in run block win rate. He's a mauler who will really help our backs move the chains and score touchdowns.
As mentioned previously, things will probably look very consistent on the defensive side of the ball, however, with the shared responsibility of co-defensive coordinator going to Foote,and Rodgers and then not game planning for calling plays, since Bowles will still be handling that duty, it will be interesting to see if the new coordinators will use that time to develop their young players and mold them to fit Bowles' scheme.
The immense knowledge that Larry Foote has from his experience as a high level linebacker could really propel Devin White to the stratosphere and could make Joe Tryon-Shoyinka the player we've all expected him to be after a solid but inconsistent rookie year.
Logan Hall could really use the expertise that Kacy Rodgers has for the defensive line and could become a quick impact player. Todd Bowles will have to really figure out how to get his secondary to find their roles and perform up to expectations, but this could be a great opportunity for the Bucs coordinators to get the time to focus on building new superstars versus continuing to rely  on aging players that are on expiring contracts who may or may not stick around once Tom Brady does hang up the helmet.
All in all, while our team should be fairly consistent this year with what we have come to expect from this group, there's also a lot to be excited about when the season officially begins!
Want to write about the Buccaneers? Apply below!
The Pewter Plank /
Want your voice heard? Join the The Pewter Plank team!