Buccaneers three biggest questions for their "all-in" year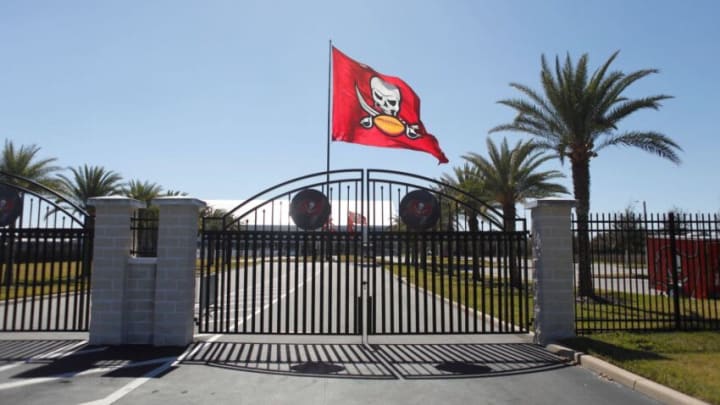 The entrance of the Tampa Bay Buccaneers headquarters in Tampa, Florida, on February 1, 2022 (Photo by OCTAVIO JONES / AFP) (Photo by OCTAVIO JONES/AFP via Getty Images) /
The Tampa Bay Buccaneers have made it no secret that they are going all in. With that being the case, what are the season-defining question marks for the 2022 Buccaneers?
The 2022 Tampa Bay Buccaneers are looking to rewind time to their 2020 success, and make a Super Bowl run in what could potentially be Tom Brady's last season (either in general or just in Tampa as he would be set to become a free agent next year if he decided to play again). There was so much chaos this past offseason, with Brady retiring, then rumors swirling of him attempting to jump ship to Miami, before unretiring and committing to this year in Tampa. Coupling that with veteran departures like Ndamukong Suh, Jason Pierre-Paul, Jordan Whitehead, and Rob Gronkowski, this year's iteration of the Buccaneers will surely look different.
While the Bucs still pulled together a strong offseason, what are the biggest question marks that they will face as they try to make another run for glory?
Can the Buccaneers secondary perform up to expectations?
The young cornerback nucleus of Carlton Davis, Jamel Dean, and Sean Murphy-Bunting have so much individual talent, that when paired with young safeties such as Antoine Winfield Jr, and Mike Edwards, this should be looked at as an immediate strength to our team. Losing Jordan Whitehead to the Jets in free agency hurts, as he was a solid player last year, but Edwards has shown flashes of brilliance, and adding veteran depth with Keanu Neal and Logan Ryan should only help further the development of the young players.
With all the talent in the secondary though, last year the group significantly underperformed as a unit, and need to take a step forward together this year for Tampa to really push for another Lombardi Trophy. Todd Bowles has called a very heavy blitz package in his time as Defensive Coordinator, now that he has moved into the Head Coach role, it will be interesting to see if that trend continues, as it works great for the pass rush, but it has left the corners on an island far too often.
How will this group of Buccaneers rookies make an impact in year one?
In a bit of a weird draft, Tampa Bay did not make a first-round selection, but traded down and took defensive lineman Logan Hall with the first pick of the second round. After that, adding players such as Luke Goedeke, Rachaad White, Cade Otton, Ko Kieft, and Zyon McCollum, among others, show that the Bucs tried to balance immediate impact while keeping an eye on the future.
Goedeke is in a position battle with Aaron Stinnie for the starting guard position, Otton and Kieft have a chance to step up and be role players this year following the official announcement of the retirement of Gronk, and White has garnered a lot of praise this offseason for his playmaking ability, not to mention Hall potentially being used at multiple spots along our defensive line. This group has a few key players that have a chance to really step up and contribute right away, but who will take those reigns and do so?
Aside from Mike Evans, how will this group of Buccaneers pass catchers fare this year?
Mike Evans is a modicum of consistency, so we know what we will get from him, he's done it every year he's been in the league no matter who has been throwing him the ball. After Evans on the depth chart, there are some big questions about which players should be on the field. Chris Godwin, of course, should be that next in line, but he's still recovering from a major knee injury and his playing status for the beginning of next season is up in the air, and when he does return he will likely take time to get back into the rhythm since a lot of his game centers around being a dynamic route runner which requires the ability to plant and cut.
Russell Gage should start the season as the second wide receiver, but he has also had some injury concerns, and this will be his first year working in a new offense. Gage certainly has talent and Brady was heavily involved in his recruitment to Tampa, so expect him to be given an opportunity.
After that though, EVERYONE has their own opinion as to not only who should be on the field, but who should even be on the roster. Teams typically carry about five receivers on their active roster, and Tampa may slide through by keeping six due to Godwin's injury. However, with Evans, Gage, and Godwin, that leaves a MAXIMUM of three slots. The Buccaneers currently have nine wide receivers that could be considered as having laid some claim to those three slots. This should be one of the most underrated position battles in the entire NFL right now, and honestly, not a lot of people are even paying attention to it.
All in all, these three questions will go a long way toward determining if the Tampa Bay Buccaneers will need to book a trip to Glendale, Arizona next February for a chance at another Super Bowl championship.